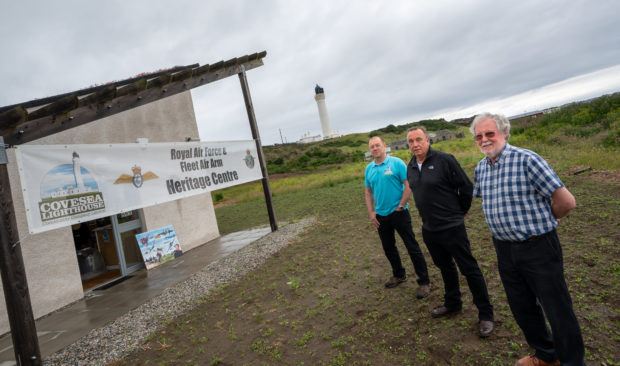 More than 1,000 people have visited a Moray military museum in the 12 months since it was first opened.
The Royal Air Force and Fleet Air Arm Heritage Centre was unveiled next to RAF Lossiemouth last June to celebrate the region's long military links.
It is located in a scenic area of the region beside Covesea Lighthouse and is run by a group of volunteers who are charged with showcasing exhibits and recounting the rich history of the coastal town.
A treasure trove of artefacts from times gone by are on show, including relics from the heritage room that is located at the RAF Lossiemouth base.
Chris Tuke, chairman of Covesea Community Lighthouse Company, said he was pleased to see the museum grow in popularity after a shaky and quiet start last summer.
He said: "It's always a guess when creating a business plan about how busy a place will be, but we have been pleasantly surprised by how busy it has been, especially with the amount of donations we have been getting.
"Most people who come here are specifically ex-military and ex-navy, which works out well because all of our volunteers are also ex-servicemen and women.
"We have had visitors from as far away as Australia and Canada who are interested in British military history come and have had a look around."
The main centrepiece in the heritage centre is the bell from HMS Fulmar, which was what RAF Lossiemouth used to be called when it was a naval base.
In addition to that, there is various other memorabilia on show, including a 12-foot carrier model used by the navy to recruit people.
Covesea Lighthouse and the adjoining facilities are all run by volunteers who rescued the site after it was decommissioned in 2012.
Mr Tuke revealed they were always on the look-out for new items to thrill visitors.
He said: "We did have a slow start when we opened last year as we attempted to get a lot of items from the RAF base.
---
>> Keep up to date with the latest news with The P&J newsletter
---
"However, we received numerous donations and personal belongings from locals, plus Morayvia were very good to us and let us borrow an ejector seat, so the place is well kitted out now."
The centre is open from 11am until 4pm at weekends.