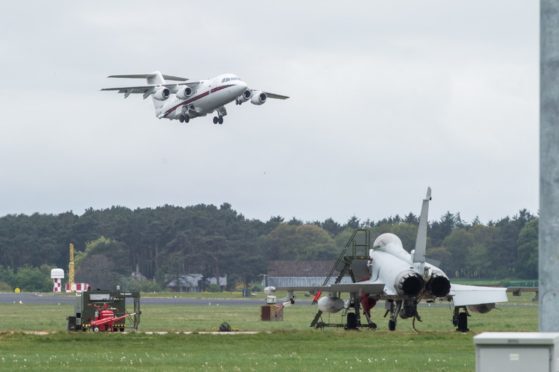 An aerospace engineering company has visited RAF Lossiemouth to encourage children to consider a career in the fields of science, technology engineering and maths (Stem).
Staff from Leonardo met visitors at the Moray airbase's friends and family day, as part of efforts to recruit potential new employees from the region.
Representatives from the international company showed off a virtual reality game, where children were able to experience a simulated Typhoon take off.
A team of apprentices and graduates from the company also spoke to families about how Leonardo's technology plays a role in supporting the aircraft which regularly jet off from the airfield.
Sarah Riley-Evans, communications and engagement team manager at RAF Lossiemouth, said: "The RAF is delighted to see large employers like Leonardo seeking to become a part of the Lossiemouth community.
"All it takes is for a company to give a taste of the fantastic technology that is out there, and they can end up shaping young people's futures.
"We look forward to finding new avenues for collaboration with industry, so nobody in the Moray community misses out on the rich wealth of opportunities that engineering  can provide them in the future."