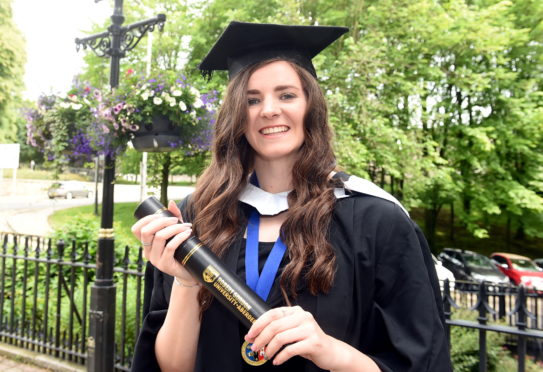 A record-holding athlete from Fochabers has achieved a first class honours degree after throwing herself into her studies.
Dionne Milne graduated in applied biomedical science at His Majesty's Theatre in Aberdeen yesterday, alongside hundreds of others from Robert Gordon University.
The 21-year-old was able to balance her studies alongside training, competing and excelling in discus.
In all of her four years at RGU, Miss Milne won at the Scottish Universities and Colleges Association championships – and broke the competition record in her second year.
Having secured a sports scholarship for her first three years, Miss Milne took more time to focus on her studies in her fourth year.
It did not stop her retaining her Scottish title but she sacrificed her place at the British Universities and Colleges Association as it was the day before her final hand-in.
Her success earned her full blues, an award given to students competing at the highest level.
Originally setting her sights further afield than Aberdeen, which she thought was too close to her Moray home, she "fell in love" with the RGU campus on an open day.
Miss Milne said: "And when learned I had fitted the criteria for a scholarship, I flicked through the prospectus and picked a course here I thought I'd like.
"I'm still in shock about my results," she added.
"I've never considered myself to be the best at biology, and in no means have my grades been perfect throughout university, but I am so proud to have pulled it off when it matters most.
"My time at university has been a bit of a rollercoaster but I am going to miss it."
Having excelled in a number of placements through her course, Miss Milne has already accepted a job in the microbiology department at Aberdeen Royal Infirmary.