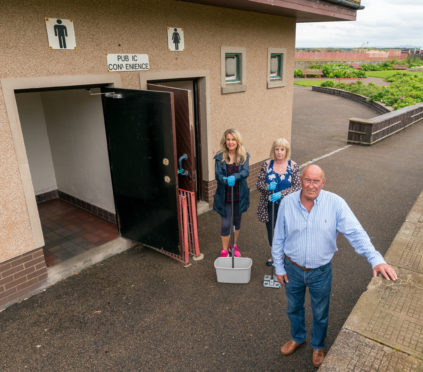 Campaigners dedicated to maintaining public toilets in Moray have been left distraught after human waste has been repeatedly smeared inside following "disgusting" attacks in recent weeks.
Volunteer cleaners have had to clear mess from the walls and floor from the conveniences in Lossiemouth three times since the beginning of the month.
Forensic-style white suits similar to those used by the police as well as masks have now been ordered to guard against the smell and waste should it happen again.
The kind-hearted group only took on the facility at Station Park after becoming concerned about the effect its closure due to council budget cuts would have on tourists' opinion of the town.
Now, however, they fear the repeated defacing of the community-run block may make an even worse impression for visitors.
Yesterday Lossiemouth Community Council vice-chairwoman Carolle Ralph, who cleaned the toilets following the most recent incident, said she intended to report the incidents to the police and ask that officers monitored the area for suspicious activity.
"It's very disheartening. As volunteers it puts us in a very difficult position.
"It pushes people to the limit, even those who really want to help. It might also put those off who are considering helping.
"There's been a lot of generosity from people to help buy cleaning materials and fund other things to keep the toilets open – but it's clear that's just being abused by some.
"The sad thing is that, short of sitting there watching what's going on, there's very little we can do to stop it."
She added: "Sadly we've also had people stuffing things down the toilets and blocking them."
The Lossiemouth group has developed a rota of about 10 cleaners who take turns maintaining the toilet block and has also added flowers to make it more welcoming.
Fundraising undertaken by the local community centre has contributed about £150 to costs in recent months.
Other members of the community have kindly dropped-off cleaning products at the nearby retailer Unique.
The toilets were previously threatened with closure, before the council finally pulled the plug last year in the wake of a spate of incidents, which included sinks being ripped-off the walls and a hand dryer being set on fire.
Yesterday the group reaffirmed their dedication to maintaining the cubicles and called for the community to be more vigilant around the block to deter more attacks.
Community council chairman Mike Mulholland said: "It's disgusting to think that somebody has gone in there and smeared it around.
"We get a fantastic response from everybody for the fundraising we do to keep them open. It's really disappointing to see this happening again and again."