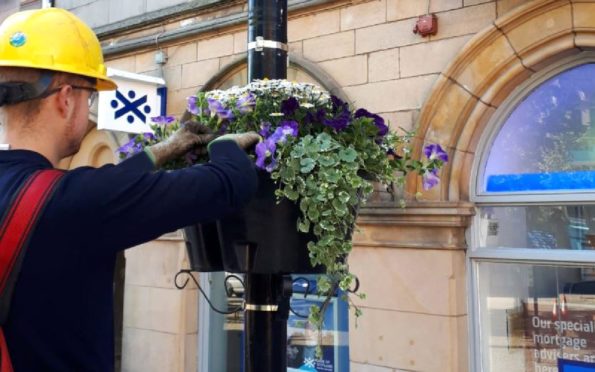 Staff from a power company have pitched in to help improve the look of a Moray town by hanging up summer flower baskets.
Employees from Scottish and Southern Electricity Networks (SSEN) donated time to support Elgin's business improvement district (Bid) with floral displays.
The team of volunteers used lifting equipment to access the baskets, which have been attached to lamp posts in the town centre following backing from the community council and Spice litter campaign group.
Gill Neill, chief executive of Elgin Bid, said that accessing the baskets, which were first put up last year, would have proved difficult without the help of the power firm.
She said: "The baskets are part of a larger project to enhance the centre. We recently had the street planters re-planted and a team have been out removing the low-level kerb side weeds across the Elgin Bid area.
"All these activities are helping us show off the natural beauty, we want visitors both local and from further afield to wander round Elgin and enjoy what they see.
"We couldn't have managed to complete the Green Elgin project without the support of partners like SSEN."
Shona Horn, customer relationship manager for SSEN's north region, said: "We were delighted to support Elgin Bid, the Spice group and Elgin Community Council again this year by hanging up their summer flowering baskets as part of the wider Green Elgin project."