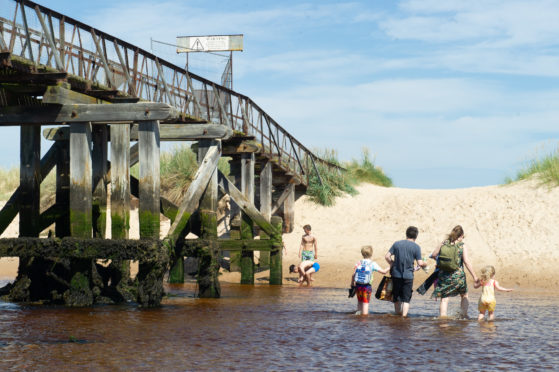 The vital footbridge to Lossiemouth's East Beach has been left "hanging by a thread" and could be so badly damaged that it will never reopen.
The picturesque crossing was sealed off by the council this week after it began leaning to one side following increased use during the sunny weather.
Initially it was hoped that a temporary fix may have allowed it to be reopened during the busy summer season.
But yesterday it was revealed that such a solution is not possible and residents were told that the bridge was unlikely to reopen this year – if at all.
There remains no other short-term solution to restore access for beach-goers, who now face a seven-mile trek from Kingston to reach the famous sands.
A public meeting has been organised for Wednesday amid concerns from locals and businesses about the effect the loss of the bridge will have on the town.
A joint statement released by the Lossiemouth Community Development Trust (LCDT) along with the local community council and business association described the damage to the bridge as "catastrophic" – saying it had been left "hanging by a thread".
It said: "There were discussions about strapping the sections, bolting them together, replacing the rotten section and more, but in every case we face two issues.
"Firstly, the rest of the bridge is in such bad shape that there is a high risk that more breaks will occur. Bolting it together and declaring it safe for passage, even for a limited number of people, is too risky.
"Secondly, the bridge is not owned by anyone, which is the main reason that no-one will repair it.
"If an organisation attempts a repair, they then assume responsibility for it and liability to maintain it, as well as crippling financial liability if someone is hurt or injured."
Community representatives maintained a vigil at the crumbling bridge yesterday, which dates back to 1918, to ensure there was no repeat of sun-seekers being trapped by the tide after dozens of people had to be taken off the beach by the RNLI on Thursday.
Concerns have also been raised about the upcoming fundraising raft race on August 18, which regularly has people lining both sides of the river and the bridge to watch.
It is believed that if spectators and competitors are kept away from the ageing structure then it should be allowed to go ahead.
An online fundraising campaign by LCDT has been boosted by another £1,500 within the last 24 hours, bringing the total to £11,000 for a replacement bridge.
Heldon and Laich councillor John Cowe said: "
The public meeting will be held in Lossiemouth Town Hall on Wednesday at 7pm.
'Huge blow for Lossiemouth'
The Ministry of Defence has been asked to support Lossiemouth's efforts to deal with the loss of its East Beach bridge by providing a temporary crossing.
The Royal Engineers based at Kinloss Barracks have already offered support to the community if the required materials to create a new structure become available.
Campaigners who have been raising funds to repair or replace the old bridge have warned that donations alone will not raise the £500,000 needed for a permanent solution.
Yesterday Moray MSP Richard Lochhead wrote to both the UK and Scottish governments to ask whether any support can be offered due to the beach's importance to the tourism sector.
He said: "The closure of the footbridge at the height of the tourist season is a huge blow and I know that local businesses are already concerned about the immediate impact it is having.
"After speaking with senior personnel at Kinloss Barracks – where they helpfully said they were ready to help in any way they can – I wrote to the Ministry of Defence to ask that they look urgently at deploying a temporary bridge from elsewhere to Lossiemouth.
"Whilst the bridge may be closed, we should all remember that Lossiemouth is very much open for business and we should continue to support the traders of the esplanade as this will no doubt be a very anxious time for them."