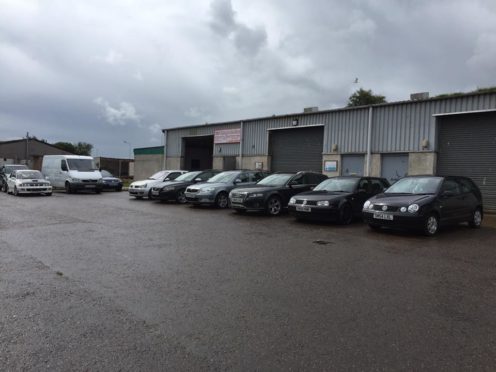 A Moray garage owner fears his firm has been targeted by a gang of "professional thieves" in an attempted break-in at his premises.
Vandals smashed a window and ripped an empty key safe off the office wall from outside the building during an overnight raid of C and P Garage Services in Forres.
When business owner Callum Wall reviewed CCTV footage, he saw three hooded men snooping around his property while taking an interest in a high-performance Mitsubishi Evo parked on the forecourt.
It is believed the would-be thieves were attempting to steal the vehicle from the Greshop Industrial Estate site while they scoured the area with torches in an attempt to find a way into the building.
Yesterday, police confirmed they were investigating the incident, which occurred at about 1am on Sunday, July 21.
Mr Wall has now urged other business owners to take precautions amid concerns the gang may target similar premises across the north.
He said: "Straight away after they arrived, they took an interest in the Mitsubishi Evo. I don't know if they had come specifically for it during the day or just saw it while they were passing and decided to scope it out.
"They smashed an office window and a key safe on the wall. Luckily, I don't keep keys in there and there are bars over the windows so they could only reach an arm in.
"They were here for about 16 or 17 minutes, they weren't in any rush to get away. It looked like they knew what they were doing.
"Luckily, they got away with nothing."
CCTV footage at the garage shows a car driving onto the forecourt before reversing, turning away again and parking near the entrance.
Two men then appeared to search the area before a third man joined them from the vehicle and strove to get through a door by forcing entry.
After being thwarted in their attempt to enter the building, the men made a final search off the area before getting back into the car and driving off.
Police have confirmed the attempted break-in has been reported to officers.
A spokeswoman added: "Inquiries are continuing."