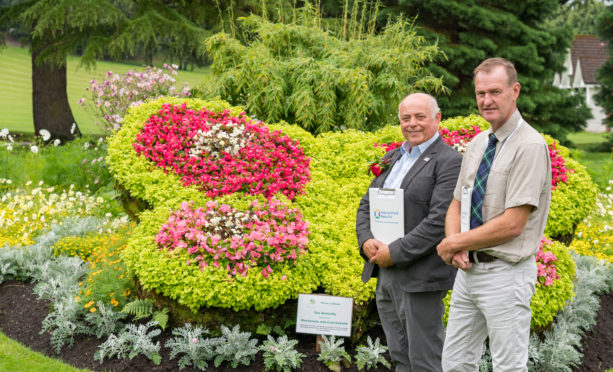 Volunteers have been out in force in Forres to showcase a year of hard work creating blooming displays.
Judges from the Beautiful Scotland awards toured the town to inspect the colourful arrangements from locals created to display their pride of where they live.
For nearly three decades the Forres in Bloom group has cultivated beds across the town – scooping numerous prizes including a gold medal and special award for community involvement the same awards in 2018 as well as the Queen's Award for Voluntary Service earlier this year.
This year's displays include more than 22,000 separate plants spread across locations including Grant Park, Sanquhar Pond and the town centre as well as several others.
Yesterday, Beautiful Scotland judge Sandy Scott praised volunteers in the town for creating a "strong community" that encourages groups to work together.
Sandra Maclennan, secretary of Forres in Bloom, said: "We love it. 'We love where we live' is actually out motto. Forres is an incredible town and we all take great pride in it.
"People love seeing the displays and want to see them every year. We try to add variety with changing the colours but we are restricted by what plants we can use here – you're not going to get the exotica that you see in Jersey, for example.
"An incredible amount of work goes in every year. We've got volunteers from four years old and our oldest is 93."
She added: "It's getting harder every year though. With the savings the council is making we need more and more volunteers to cover the work that is no longer being done by them."
During the tour of the town the judges were shown the garden near Grant Park that is tended to by primary school children, christened the Wee Fibees.
There the youngsters grow vegetables outdoors and in greenhouses as well as maintaining a floral sculpture in the shape of a large bee.
Meanwhile, preparations for next year's arrangements are due to begin as soon as next month.
Mr Scott added: "This is the first time I have judged Forres but what has really come across very strong is the real sense of community – everyone is working towards a common goal.
"They are old hats at this because they've been doing it for such a long time – but there really is a lot of effort to get to this standard."
The results of this year's Beautiful Scotland awards will be announced in September.