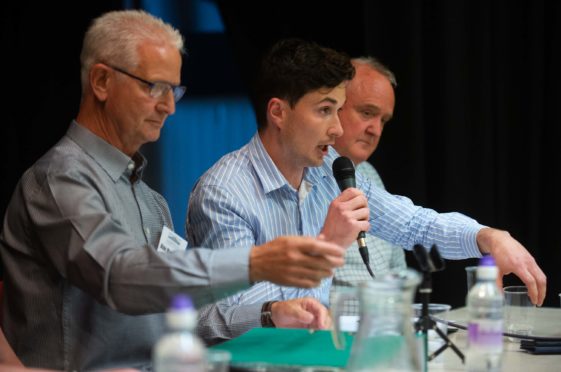 Crisis funding is being investigated to fund a new footbridge so access can be restored to a Moray beach.
More than 300 people packed a public meeting in Lossiemouth last night following the closure of the town's East Bridge crossing last week.
Many were left standing despite the upstairs section of the Town Hall being opened, as Simon and Garfunkel's hit Bridge Over Troubled Water was played.
Representatives spent more than 90 minutes fielding questions, during which they ruled out spending money on the existing structure, stressed large fundraising grants were critical to any project and warned it could be autumn next year at the earliest before any solution was put in place.
Meanwhile, it was revealed funding from the Bellwin Scheme, administered by the Scottish Government in crisis situations, could be looked at.
Former Heldon and Laich councillor Dennis Slater described the situation as potentially a "quick fix" – but only if both UK and Scottish governments were prepared to work together.
Current Heldon and Laich member John Cowe said it was time for the RAF to repay its debt to the town.
He said: "Billions are being spent at RAF Lossiemouth just now.
"Moray Council had to find an extra £466,000 for changes to the new Lossiemouth High School requested by the MoD. We also had to increase the capacity for them.
"There was no contribution from the MoD then, it's a disgrace.
"The town came to the RAF when it needed help, it's about time they came to our help now."
Carolle Ralph, vice-chairwoman of Lossiemouth Community Council, said: "This is an emergency for our town. The bridge is special to us. It's our bridge, we have to do something to keep it there."
Moray MP Douglas Ross added: "I'm really keen the council ask the Scottish Government to trigger the Bellwin Scheme, which provides funding for costs incurred to prevent suffering or severe inconvenience as a result of disaster or emergency. To me, the situation in Lossiemouth matches this criteria."
And Rab Forbes, chairman of Lossiemouth Community Development Trust's bridge committee, stressed a new crossing was the most viable option to pursue – but warned the group had only raised £70,000 in a year towards an expected £500,000 bill while carrying out an exhaustive search to find funders.