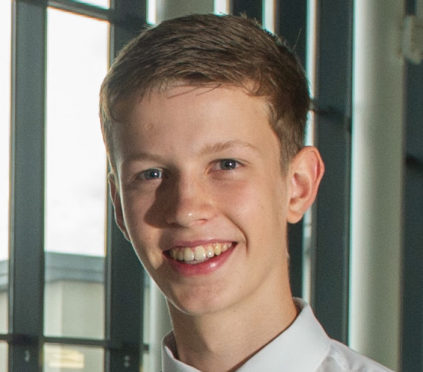 One Moray teenager is hoping to use his straight As to help realise his ambitions for spearheading the next innovations in the space race.
Elgin Academy student Daniel Campbell hopes to go to university to land a dream job with Forres firm Orbex, which builds and launches small satellites into orbit.
Yesterday the 17-year-old learned he got top grades across the board in his chosen subjects maths, French, physics, chemistry and biology.
The student, who will be entering sixth year after the summer, was one of four at the school to get five Higher As in their results yesterday with classmate Jacob Holder getting a phenomenal six As and James Orr gaining five As and one B.
Daniel has already beaten hundreds of other hopefuls to secure a place at the Scottish Space Camp and earlier in the summer travelled to Houston to learn first-hand from experts at Nasa.
The Elgin teen is hopeful that his straight As will help him take the next step towards achieving his career goals by securing a place at Strathclyde University to study aero-mechanical engineering.
He said: "I was very relieved when I got the results. It's what I was aiming for because I always want to do the best I can but I didn't think the French exam went well, I had to put in a lot of hours of revision for the listening part."
"A friend of mine has gone to do the same course at Strathclyde and has managed to get a work placement with Orbex already. It's a growing industry here and I would like to be part of it.
"Space has always interested me and I have always liked working on projects, working through processes and building things so I want to get into that but in an aeronautics, aircraft and space vehicles setting."