Huge military convoy loaded on train in Moray as part of army exercise

By
David Mackay
August 15, 2019, 6:59 am
Updated: August 15, 2019, 8:52 am
A huge convoy of military vehicles was loaded on a train yesterday as soldiers headed south to take part in a massive training exercise.
About 30 Land Rovers and Foxhounds, each in camouflage livery, were driven onto wagons in Elgin before a long trip by rail.
The large deployment from 3 Scots, The Black Watch 3rd Battalion, started arriving in groups in the Moray town at about 6am from their base at Fort George near Inverness.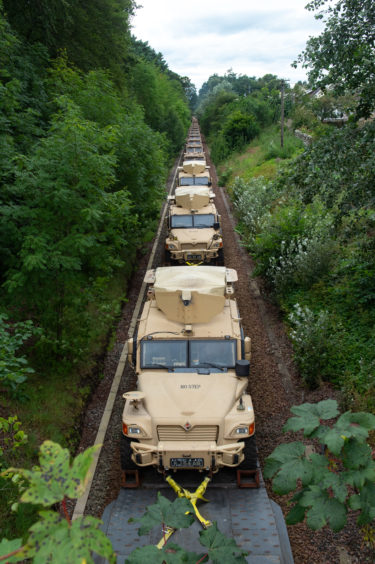 The convoy drove into the large sidings next to the train station before gathering on the abandoned site, quickly drawing the attention of locals.
All 28 of the vehicles were then driven one-by-one across the wagons until they were all lined up on the huge train that snaked its way through the yard.
Camouflaged soldiers – also wearing high-visibility vests – ensured they were secured correctly.
The detachment then left Moray shortly after 4pm to make the journey to the Army's training area at Salisbury Plain, where troops have been put through their paces since the 19th Century.
The Fort George troops are taking part in Exercise Wessex Storm, which is an annual operation that involves British forces as well as Nato allies.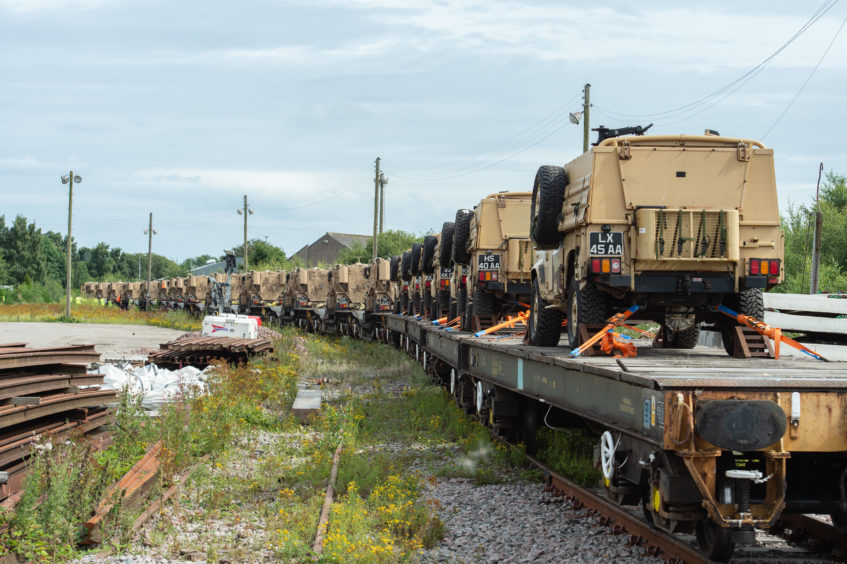 The 3 Scots soldiers are expected to be spending about two weeks at Salisbury Plain where they will take part in scenarios involved simulated attacks in open and built-up areas.
Long moves of personnel and vehicles are also included in the drills as well as live-fire exercises and airborne operations.
An Army spokesman said: "3 Scots are going on exercise as part of Exercise Wessex Storm at Salisbury Plain.
"Loading up the train to go down there is part of the exercise because they would need to do it as part of any long-distance operation to make sure the vehicles are in as good a condition as possible when they arrive."