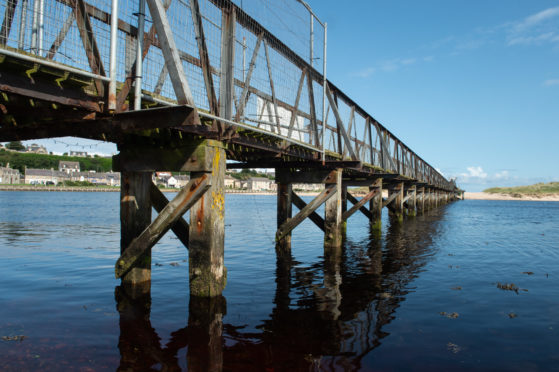 Campaigners in Moray have issued a rallying cry for a huge turnout of support for businesses in Lossiemouth this weekend.
Their plea came after several traders revealed they have suffered substantial losses following the closure of a popular footbridge.
Community groups are concerned that life may grow even tougher in the months ahead with the Lossiemouth Business Association warning: "The long-term impact will be worse than the short-term."
Yesterday marked three weeks since the crossing to Lossiemouth's East Beach was closed amid concerns it was on the brink of collapse.
The structure was used by about 3,800 sun-seekers every day as the summer temperatures reached their peak at the time it was sealed off.
However, now that the number of beach-goers has plummeted due to lack of access, the waterfront esplanade has been almost deserted and retailers' profits have nose-dived.
Business leaders in the town have confirmed they are launching a long-term economic impact study to examine the loss to traders.
Organisers of Sunday's raft race have encouraged locals to turn out in force for the event to support the town with a pledge to donate a quarter of the proceeds to a replacement crossing.
Meanwhile, one waterfront trader has revealed his takings have halved since the closure, amid concerns it could be the autumn of 2019 before access is restored.
David Guidi, who runs the Bridge 45 and Salt Cellar restaurants and Guidi's ice cream parlour, said: "I have been here 40 years and we should be mobbed right now, but we're not – I would say we're about 50% down.
"We normally get a lot of dog walkers sitting outside, but there's nothing just now because they can't get to the beach to walk them.
---
>> Keep up to date with the latest news with The P&J newsletter
---
"I normally open up on January 2 solely because a lot of people are down walking their dogs. With no beach, there will be nobody here, so it probably won't be worth it."
Lossiemouth Community Development Trust, which is spearheading the campaign for a replacement bridge, has more meetings scheduled with firms before the end of the month in an attempt to find a short-term fix.
The group has raised about £75,000 towards a replacement crossing. However, the final bill is expected to top £500,000.
The annual raft race, which is organised by the local RAF base, regularly attracts thousands to the waterfront for a day of entertainment.
Denise Bedson, secretary of Lossiemouth Business Association, hopes the weekend's event will demonstrate that the town remains open for business.
She said: "We think the long-term impact of the loss of the bridge will be worse than the short-term. At the moment, the caravan parks and guest houses have already been booked for this year so the impact could be greater next year.
"The ice cream shops and the cafes have already had it bad. Usually there are queues out of the door in the summer, but there's no question it's a lot quieter now."