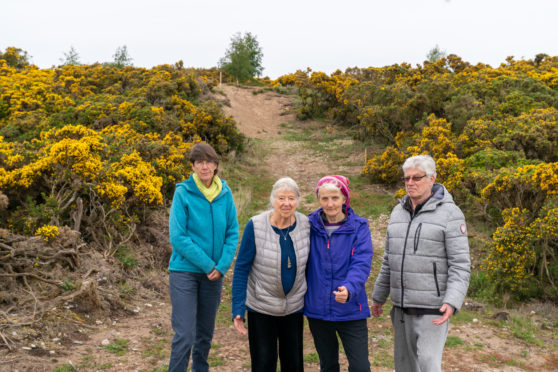 A controversial housing development in Moray is poised to be approved despite dozens of objections.
Developer Duneland has applied to build 38 homes, in addition to three craft studios on land at North Whins, near the Findhorn Foundation.
The proposals are the latest phase of a masterplan comprising 75 homes, which has split the community.
The plans have prompted a furious response from objectors who claim that more than enough properties have already been built in the area amid reports of "no more" being scrawled on signs nearby.
More than 50 letters of protest were received by Moray Council, including from the local community council, with fears ranging from pressures on nearby roads and worries about rare birds who nest near the beach to the impact the population increase could have on the dunes.
However, those spearheading the project, which has also attracted about a dozen letters of support, argue the project is within Findhorn's defined boundary and the development has been designed to enhance the natural environment.
Moray Council's planning committee is due to meet on Tuesday to debate whether planning permission in principle should be granted.
In a report, senior planning officer Lisa Macdonald has recommended that the development should be allowed to go ahead, explaining the proposals have complied with existing policies.
She said: "The impact on the natural environment has been fully assessed and appropriate mitigation is proposed.
"It has been demonstrated that the development can be sited, designed and serviced in a manner that is in keeping with the surrounding development but without any unacceptable or significant adverse impact on the amenity of the surrounding area."
A total of 20 conditions has been recommended for the project, including one for an archaeological dig due to the site being close to where a Bronze Age hoard was found.
If the development is approved, the council's planning department has revealed it will be seeking cash from Duneland to help support extensions to Kinloss Primary School and Forres Health Centre, additional dental chairs in the area, a reconfiguration of local pharmacies and an artificial sports pitch in Forres.