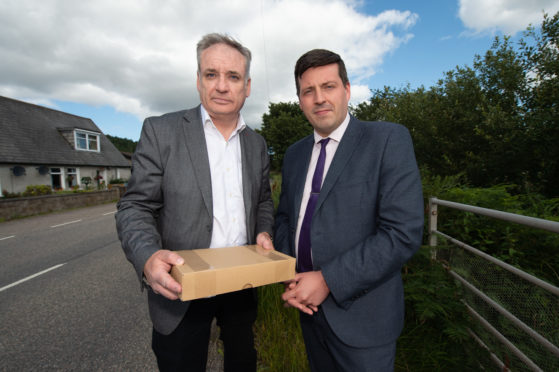 A Scottish Government minister has branded delivery charge anomalies in the north as "madness" after visiting homes near postcode boundaries.
Locals in Orton, south of Fochabers in Moray, have to put up with the farcical situation of trucks driving past their homes to deliver parcels for cheaper prices or for free to Rothes or Aberlour – both of which are further away from the main A96 Aberdeen to Inverness road.
Yesterday, one resident Ann Wardlaw revealed she has resorted to getting packages delivered to the nearby village post office to avoid paying the excess fees, despite couriers with her goods passing her home to get there.
The anomaly arises because some firms choose to charge extra fees for IV (Inverness) postcodes while offering free or cheaper deliveries to AB (Aberdeen) addresses.
Moray MSP, Richard Lochhead, revealed some firms charge as much as a £70 excess fee to go to the Highlands area, which in Orton is separated by just a field.
Yesterday, the Scottish Government's minister for business, fair work and skills, Jamie Hepburn, made fresh calls to the UK Government to consider regulation after visiting the region to hear about issues which affected shoppers and businesses.
He said: "We know there's no real clarity or rationale for the charges, this is a very vivid demonstration of that nature – it's the definition of madness.
"We will continue to do what we have been doing which is gather evidence to better understand the full extent of the problem.
---
>> Keep up to date with the latest news with The P&J newsletter
---
"Finding examples like this can help to build up the type of campaign Mr Lochhead has been running to tell the UK Government they need to be taking a stance on this."
It is estimated that additional delivery surcharges for parcels costs Scottish customers an extra £38million a year compared to the rest of the UK.
Mr Lochhead invited both Mr Hepburn and Westminster's consumers minister Kelly Tolhurst to visit the region to learn more about the issue.
The UK Government has consistently stressed it does not consider legislation necessary and has urged firms to be more clear about delivery fees they do charge.
Mr Lochhead said: "I'm delighted Mr Hepburn has come down to see with his own eyes just how ludicrous the situation is.
"In many cases, these charges are unjustifiable and illogical.
"It's really unacceptable that delivery lorries will come along the A96, pass the homes in Orton, where they either charge or won't drop-off at all, to get to an Aberdeen postcode, which is just the other side of a farmer's field away."