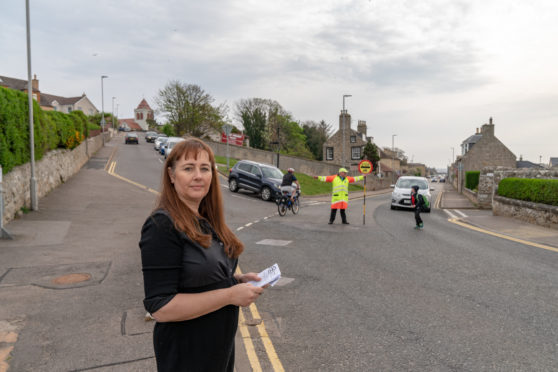 Campaigners in Moray have issued safety warnings as pupils prepare to go back to class without school crossing patrollers for the first time.
The valued posts were axed by the council this year amidst budget cuts of more than £10 million.
Nearly 12,000 students will head back to school tomorrow after the summer holidays without the help to cross busy streets they have always counted upon.
The move has provoked concern about road safety in communities across the region.
Moray parents back idea to keep paying school crossing patrollers
Posters have been attached to lampposts at the foot of School Brae in Lossiemouth bearing warnings that officials are "gambling with children's lives".
Meanwhile, concerns also exist at St Catherine's Road in Forres and on Aberlour High Street – two locations where new traffic lights have been approved to reduce dangers but are yet to be installed.
Issues surrounding traffic near New Elgin Primary School and East End Primary School in Elgin have also been reported in recent years.
Moray Council has repeatedly stressed it is the responsibility of parents to get their children to and from school.
Amanda Nasser, chairwoman of St Gerardine Primary School's parent council in Lossiemouth, believes the removal of the patrollers will still come as a surprise to many families this week despite efforts to raise awareness.
She said: "We've done our best to try and make sure everybody knows what's happening but I still think there are parents that don't know about it, which is very concerning.
"School Brae is the most lethal of the junctions  we are worried about.
"Even as an adult I find it difficult to look in all directions and assess how fast the cars are going. To expect a child to do it is just not possible.
"There can be parked cars there too. so you sometimes have to actually step out onto the road to get a good view."
Campaigners had hoped that traffic lights planned for the site would be installed for the end of the summer holidays but the community is still awaiting their introduction.
Removing school crossing patrollers across all sites between this year and last summer has enabled the council to shave about £120,000 off its annual budget at a time it faces cutting another £19 million over the next two years.
Communities acting swiftly in effort to save the region's school crossing patrollers
Initially all were due to be axed last year before a decision was taken to preserve 13 locations for a further 12 months.
The decisions have prompted campaigners in Lossiemouth to start a £15,000 fundraising campaign to try and fund two new zebra crossings for pupils and locals.
Vice-chairwoman Carolle Ralph said: "I don't think all parents have realised that there will be no patrollers there this week.
"We had looked at trying to fund the posts ourselves but that just wasn't going to be viable.
"Instead we trying to raise money for zebra crossings, which we think will be a lot more sustainable in the long-term."