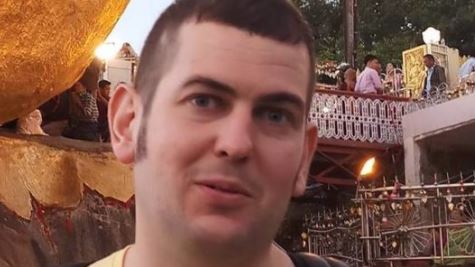 An investigation has been launched after a Moray man was found dead in London – 10 hours after his family raised concerns for his welfare.
Ramsay Urquhart, from Keith, was discovered dead in his flat after police were sent to his home.
The 34-year-old's family had become increasingly worried about him in the run up to his death as he had been struggling to find work in the capital.
His wife Pan Ei Phyu, who lives in China, and father Murdo Urquhart contacted the police after not hearing from him for days.
But his father has complained that officers took too long to check on him – and believes Ramsay may still have been alive if they had acted faster.
It took 10 hours from Murdo contacting police in Keith to officers in London attending his son's address.
Now an investigation has been launched by the Independent Office for Police Conduct (IOPC) to establish whether the Metropolitan Police responded correctly to the concerns.
Murdo, who used to run a shop in New Elgin, said: "We tried to phone Ramsay that morning but couldn't get through.
"We'd been worrying about his mental health because he was struggling to get a job in London. The reason he moved there was to try and earn enough money to get his wife over from China so there was a lot of stress on him.
"We wanted the police to go round ASAP but it took them 10 hours, it's very hard to take."
Mr Urquhart added: "We think he was still alive. He died on the Wednesday and we've got bank statements that show he was still using his pin code on the Monday."
Mr Urquhart claimed police told him his son – who stood for election for Ukip at a Moray Council Elgin North by-election in 2014 – died following complications with his diabetes.
However the businessman believes the fact his son was found wrapped in a duvet doubt on the explanation.
He added: "He would have been thrashing about trying to get help."
Ramsay, who grew up in Inverness, met his wife during various spells teaching English in China over the last three years.
Now his family are trying to follow through on his son's wishes by ensuring that she still enters the UK.
Murdo said: "Ramsay moved to London to get enough money for the visa, he knew he wouldn't be able to do it here. We would still like her to come."
When approached to comment, the Metropolitan Police referred the Press and Journal to the IOPC due to the ongoing investigation.
A spokesman for the IOPC confirmed there was an ongoing investigation regarding the "call grading", "level of response" and "documentation completed" following concerns being reported about Mr Urquhart.
An inquest into the death is due to be scheduled for the coroner's court in Walthamstow.