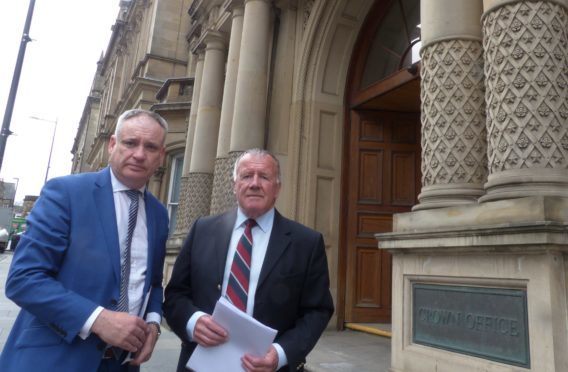 Prosecutors have been accused of "breaching confidentiality" by sending the military a dossier of evidence about a mid-air RAF Tornado crash which killed three Moray crew.
Local campaigner Jimmy Jones, who prepared the report over six months in 2017, said he was "shocked and disgusted" to now discover that the Crown Office had almost immediately handed it over to a branch of the Ministry of Defence (MoD).
Mr Jones, a retired RAF officer, had been lobbying the Crown Office to reconsider the case for a fatal accident inquiry (FAI) into the tragic events of July 3, 2012.
Squadron Leader Sam Bailey, 36, Flight Lieutenant Hywel Poole, 28, and Flight Lieutenant Adam Sanders, 27, were killed when two RAF Lossiemouth-based Tornado jets collided in bad weather over the Moray Firth.
A Military Aviation Authority (MAA) inquiry into the incident found 17 contributory factors led to the collision, and in 2015 the Crown Office decided not to hold an FAI.
Mr Jones continued to campaign, backed by members of the bereaved families and local politicians, and in 2017 he secured a change in the law to ensure all deaths of military personnel in Scotland would be the subject of an FAI in future.
After the victory, Mr Jones pressed the Crown Office to apply the law retrospectively to the 2012 case.
He gathered 20 items of "new evidence", including a series of claims about the way risk assessments were carried out by the RAF and the way the MAA probe was handled, as well as previously unidentified safety issues, and legal arguments relating to the level of risk signed off by defence chiefs.
The dossier was marked "confidential" and was sent to the Crown Office on November 16, 2017.
Mr Jones said he has now learned that it was forwarded to the MoD on November 30, 2017.
Last night, he said: "I am shocked and disgusted that the Crown Office, who claim to have undertaken an independent investigation into the accident, should hand over a confidential document to the very people who are being criticised.
"It is a breach of confidentiality."
Mr Jones added that he believed the disclosure represented a "clear indication the Crown Office do not have the technical expertise to digest evidence of the type presented in the document".
Last night, a Crown Office spokesman said: "The Crown properly sought expert advice from the Defence Safety Authority in relation to materials received.
"The circumstances of this crash and loss of life have been fully investigated and no new material or information has been presented that changes the decision not to hold an FAI."