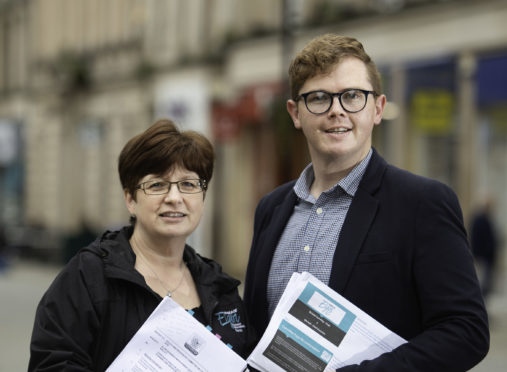 Business leaders in a Moray town have pledged to go "back to basics" if their group wins backing to continue for another five years.
Elgin's business improvement district's (Bid) future depends on a renewal ballot in November among town centre firms.
The organisation has been running for 10 years, during which time it has developed a strategic role in supporting fledgling companies, helped market vacant properties and backed initiatives including Castle to Cathedral to Cashmere and a conservation area regeneration scheme.
However, as the group seeks re-election for a further five years, it has pledged to focus on keeping the town's main shopping district clean and tidy to entice customers to the High Street as well as promoting it to a wide audience.
Chairman Richard Cumming said: "Our members have asked us to go back to basics, the world is a different place to five years ago with a lot of uncertainty about our daily lives – we want to simplify our offering.
"They want a beautiful and tidy centre that people find attractive, which will make them want to invest in and spend time in."
Priorities identified by the group's 424 members include the "cleanliness and appearance" of the historic heart of the town as well as "marketing and promotion" to spread its appeal.
Campaigns have already been launched by the organisation to promote aspects of the town centre while a project was initiated last summer to reduce the number of gulls nesting on buildings by using lasers.
Studies done have established that the number of vacant properties in the Bid area has dropped from 17.15% in November 2015 to 6.85% in August this year.
Financial estimates from the group have budgeted for an annual income of £170,500, which will be raised by an annual levy from firms in the town centre.
However, Bid chief executive Gill Neill stressed the cash can lever in even more money from external sources – pointing to its support helping to contribute to more than £4million being invested into the town.
She said: "Life is really tough for businesses. There have been changes in pension regulation, changes in wage structures, which is hard for small and large businesses to cope with.
"We have to be there campaigning on their behalf with marketing for the whole centre, doing anything we can to make their lives a bit easier."
Supporting Bid
Moray Council has pledged to vote in favour of renewing Elgin business improvement district's (Bid) term later this year.
The authority is liable to pay the organisation £17,300 through an annual levy from buildings it owns in the town centre.
However, the council has pulled an additional £52,000 annual grant for the organisation's costs after stressing five years ago that it must become self-sustainable.
Yesterday the authority's policy and resources committee voted in favour of supporting the group in November's ballot.
Reni Milburn, the council's economic growth manager, warned of a "devastating effect" if Bid was to shut down.
Council leader Graham Leadbitter added: "If Elgin wasn't vibrant centre of activity than that would financially damage the council because we have properties we want to dispose of which could become harder to shift."
Conservative group leader Tim Eagle led calls to delay the decision to gather more information about the financial implications.
Councillors voted by eight to four to support Bid with one abstention.