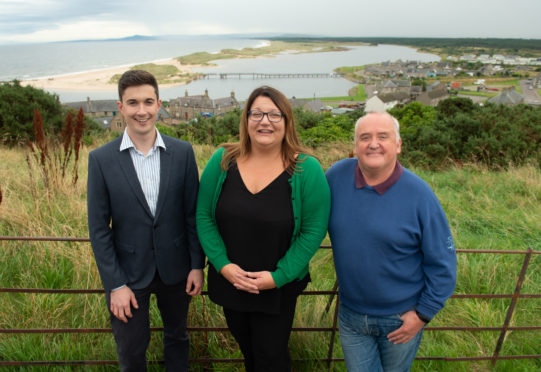 The Scottish Government has pledged to cover the entire bill to "repair or replace" a vital footbridge in Moray.
The East Beach crossing in Lossiemouth has been closed for more than a month after it cracked under the weight of thousands of sun-seekers – leaving it tilting to one side while on the brink of collapse.
Campaigners rallied around to make the case for saving, or replacing, the 100-year-old structure while waterfront businesses reported they had taken a significant hit since its closure.
Yesterday the Scottish Government announced it would cover the costs of a replacement.
Tourism Secretary Fiona Hyslop said: "The specific circumstances of the footbridge, both around ownership and the critical impact its loss will have on tourism, make this issue unique and unlike any other in Scotland."
Moray MSP Richard Lochhead, who lobbied ministers to secure the investment, said: "It has been a troubling time since the closure of the bridge in July and the uncertainty over future access to the beach has been a matter of great interest and discussion.
"This is without doubt a significant boost for the local economy and a relief for the surrounding employers and employees alike.
"I've nothing but praise for the community's grit and determination in the face of adversity – this is so typical of the strong spirit in Lossiemouth."
The Lossiemouth Community Development Trust (LCDT), which has spearheaded the campaign for a new bridge, has already sourced quotes for different options to replace or repair the crossing – which range from £500,000 to more than £700,000.
Ahead of yesterday's funding announcement the campaigners, who had only secured about £70,000 of the expected bill on their own, had warned that it was likely to be autumn next year before access was restored to the beach if cash was secured immediately.
Huw Williams, the group's development officer, said: "It's a huge weight off our shoulders. We didn't know it was coming, although we had suspicions something was coming.
"It means we can actually press on with the actual project now without having to worry about where the money is going to come from."
The bridge's closure prompted safety concerns in the town after beach-goers resorted to wading across the River Lossie to reach the sand.
Emergency services had to be called within two days of the crossing being shut after dozens of people got trapped on the beach by the rising tide.
Mike Mulholland, chairman of Lossiemouth Community Council, said: "I've always thought this needs to be treated like a disaster – like a landslip or a factory closure – the bridge is that important to the town.
"Personally, I don't think I realised how important it was until now. It's just such a relief plans needs can be made now."
Moray Council convener Shona Morrison said: "Clearly there is a job of work to be done getting a bridge designed and practical requirements such as planning permission and land ownership sorted out but the funding commitment helps to move things forward and dispel uncertainty."
Heldon and Laich councillor John Cowe said: "I'm astounded at the news. It's fantastic that they recognised the unique circumstances that we have here. It's a huge result for Lossiemouth."