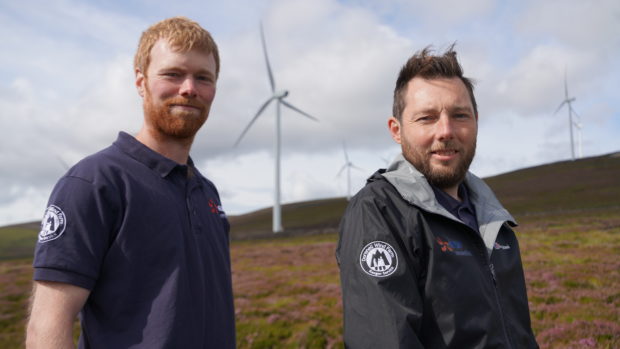 A massive wind farm on Speyside that has the potential to power more than 100,000 homes has been opened.
The Dorenell development near Dufftown was granted planning permission nearly eight years ago.
However, due to the scale of the project, which has 59 turbines up to 410ft high, it has taken several years to be completed.
Now developer EDF Renewables has declared the site on the Glenfiddich Estate open, which is the power giant's largest onshore wind farm in Europe.
The firm has committed to a benefit package of £12million for the 25-year lifetime of the turbines and has also funded two new rangers to maintain the area for wildlife and people attending a new visitor centre at Nether Ardwell.
George Potts, chairman of the Scottish Countryside Rangers' Association, said: "The creation of these new ranger posts with the backing of a major electricity company is a clear recognition of the important role they can play in providing a welcome and making connections with the local community and visitors.
"These connections will have a key role in helping to maintain and enhance the natural heritage value of the Dorenell site."
The wind farm has proved controversial throughout its development with the Scottish Government granting planning permission despite an objection from Moray Council.
Construction caused authority planners to remove an AGLV (area of great landscape value) tag from the area due to the turbines.
Whisky giants William Grant and Sons, who own Dufftown's Glenfiddich Distillery, later failed in a Court of Session bid to block construction on the development.
Campaigners in the town were also angered at the size of the community benefit package, which will pay £2,000 per MW of energy generated when the Scottish Government recommendation is £5,000. The price difference will result in communities missing out on potentially about £15million.
Matthieu Hue, chief executive of EDF Renewables, said: "We take a long-term approach to the wind farms we develop and recognise the importance of supporting those communities in which we operate.
"It is great local people were able to join us to mark the opening of this project and that local initiatives in the area will now be able to share in the success of the wind farm and benefit from the community fund in the future."