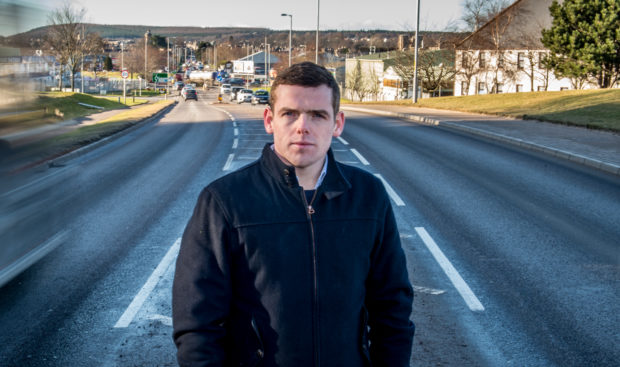 Cash-strapped Moray Council has been warned its roads are a "ticking time bomb".
Tightening financial constraints have caused spending to be reduced by more than a third over the past seven years – leading to a roads maintenance backlog of more than £40million.
Councillors are due to meet today to debate a response to a Scottish Parliament consultation on roads repairs.
Ahead of the talks, transport officials prepared a report outlining the bleak situation – warning that eventually roads will eventually "crumble" under the surface and raising concern that current spending has led to an increase reliance on "patching".
It forecasts that the situation is only likely to get worse due to more budget decreases in future years.
Moray's A-class roads have dropped from 17th to 21st in the national condition standings of all 32 Scottish councils since 2015, while B-class carriageways have dropped from eighth to 13th.
Meanwhile, the amount of road insurance claims against the authority have nearly doubled from 33 in 2014/15 to 62 in 2018/19.
Yesterday calls were made for a new method of funding transport infrastructure to ensure residents, businesses and tourists are not affected.
Moray MP Douglas Ross said the council's "hands are tied" due to diminishing funding settlements from the Scottish Government.
He added: "The backlog of roads maintenance is getting even larger and the time has come for the government to act and properly fund local authorities.
"If they don't, the diminishing budget for roads is only going to get worse and negatively impact on all aspects of life across Moray."
Elgin City North councillor Maria McLean added: "Our hardworking roads teams are simply not being provided with the resources they need to do their job."
Transport officers have recommended ring-fencing roads budget cash from the Scottish Government in order to develop a five-year plan to tackle the problems.
The report drafted by transport officers warns of a looming crisis unless spending increases.
It states: "At the present time, to make best use of the available budgets, we are very much doing the equivalent of 'applying varnish' to our roads.
"This treatment is referenced as surface dressing, which doesn't add strength to the road but is based on preventing damage from water getting into the road layers, and restoring surface texture to improve skid resistance.
"After a period of time the road will eventually crumble underneath and will require wholesale reconstruction, which comes at a significant increase in cost."