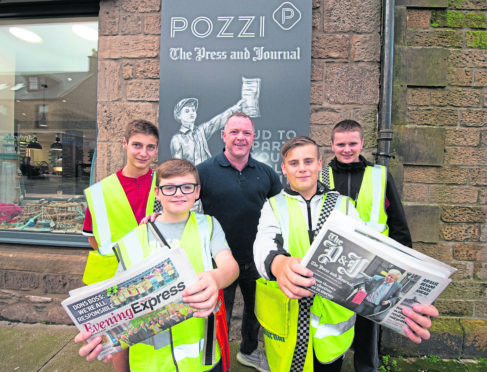 A Moray shop owner has described the Press and Journal and news as the "cornerstone" of his business.
Paper boys and girls across the north-east will be recognised as part of the Home Delivery Awards later this year.
The awards give Press and Journal and Evening Express readers the chance to honour those delivering their newspaper who often go the extra mile.
David Robertson is the managing director of Pozzi in Buckie, and said he was proud the newsagents has played a key role in getting people their local news for the last 70 years.
He said: "Pozzis has been here as a newsagent for over 100 years and we have owned the business for 31 years.
"I know that the deliveries have been going for at least 70 odd years as both the people before us The Cowies and Mr Pozzi himself delivered the news.
"My dad was very focused on growing the deliveries and as time moved on with the business we ended up as the only company delivering in the town.
"We have since expanded the delivery into the rural runs and taken over Portgordon and Portessie which are near Buckie, as shops have sadly closed. This allows for people to still get their news delivered.
"The P&J is still our biggest title and at one time we would have sold a 1,000 copies a day.
"We have 20 daily boys – 10 Sunday boys – and two delivery men in their 70s who all work alongside myself to get the papers out 364 days a year.
"The P&J and news are the cornerstone of our business and we still value them greatly.
"We have seen so many changes over the years as has the paper, but we have supported each other and that is why it is still such a strong working relationship."
There are four categories for readers nominating their favourite delivery person.
These include Deliverer of the Year, Shining Star, the Care in the Community award and Retail Deliverer of the Year.
After nominations have been submitted, judges will whittle it down to three finalists for each category. There will also be a number of highly-commended runners-up.
Mr Robertson said his family took great pride in offering youngsters their first job by delivering papers.
He added: "The delivery people are crucial to our business and we treat it as their first proper job with little incentives and a proper reference.
"Delivering news is a discipline where you have to be prepared to get up early, work hard, look at the changes and provide a consistent service. This is not once or twice but every day, and that is what is so good about the job it instils that work effort in those that do it."
The finalists will be invited to an awards ceremony at Marischal Square, Aberdeen, on November 3.