Clothing bank opens for warm coats and jackets for Moray youngsters
Moray's clothing bank for children has launched its winter appeal for warm coats and jackets for youngsters in need.
Moray School Bank is based at MSP Richard Lochhead's constituency office on South Street, Elgin, and there are numerous other drop-off points across Moray.
The charity accepts donations of new and as new school uniform and warm winter items.
Demand this year has been particularly high.
Debi Weir, development manager at Moray School Bank said: "This year we have been inundated with requests for school uniform, already dealing with 280 referrals since July.
"As the cold weather hits our requests for winter support have started to arrive.
"We are blown away by the support of the community and hope that they will get behind our winter campaign to support our children in Moray."
Members of the public can donate by buying an item from a local school uniform/equipment retailer and dropping it off.
Mr Lochhead  said: "Over the past few years the team at Moray School Bank have been doing an incredible job supporting local families in financial hardship and ensuring that kids have access to the clothing they need.
"I know that the efforts of the school bank are making a huge difference to families and kids right across Moray and this winter I'm supporting their winter appeal for warm coats and jackets.
"I would encourage those who can to also get behind the school bank's winter campaign.
"Folks looking to donate can drop off any new or 'as new' jackets at my office or at one of the many drop off points across Moray."
A list of drop off points and map can be found online at morayschoolbank.org.
As well as the complete range of uniform items, the charity is also looking for school bags, pencil cases, pencils, rubbbers, sharpeners and rulers, lunch boxes and water bottles.
As new items can't be dropped off at Tesco stores, but should be washed and bagged, and dropped off at the charity's wheelie bins.
The Moray School Bank can also take gift cards for school clothes or school shoe retailers, and accept donations directly through its website.
The charity also has a textile recycling bank in Land St, Rothes where all clothes, shoes, bags and belts can be recycled.
Textiles make £400 per tonne, money which the charity uses to buy new clothes for Moray children.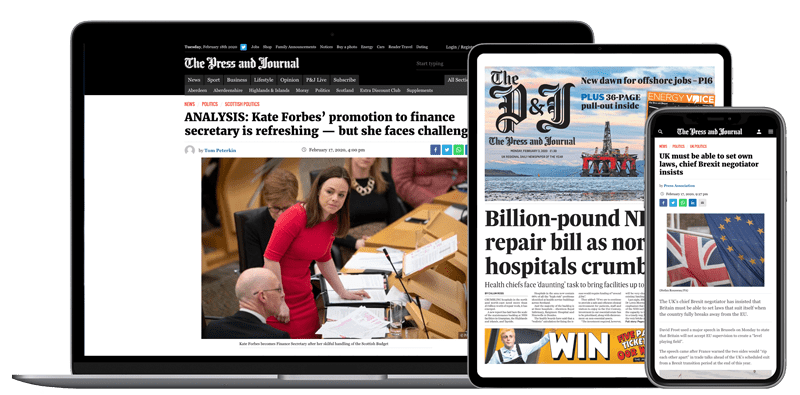 Help support quality local journalism … become a digital subscriber to The Press and Journal
For as little as £5.99 a month you can access all of our content, including Premium articles.
Subscribe