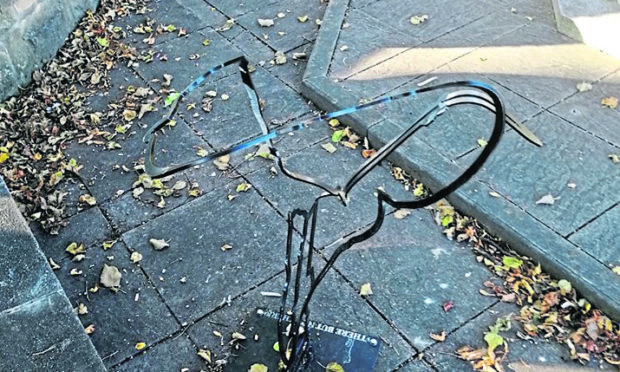 A Moray sculpture commemorating those who lost their lives serving their country has been vandalised for the second time in a fortnight.
The Tommy silhouette was installed last year at the New Elgin war memorial statue site for the First World War 100-year commemoration to honour the brave men and women who lost their lives serving the country.
The figure cost £760 plus installation fees when it was erected in 2018, and was first damaged last week.
But this time the damage is more serious and the council has been forced to remove the Tommy silhouette to fix it.
Repairs are currently under way and council staff hope they can be completed in time for New Elgin's Remembrance Sunday service on November 10, to be held at 2:30pm.
Once the silhouette is reinstated, the council will then review their options to assess the integrity of the structure and if the sculpture can be kept in place all year round, or will be relocated or stored until the following year's service.
Elgin City South councillor John Divers, who served in Royal Naval Air Service, said:
"It's really sad we are having to consider this because of a small number of people who vandalise without considering the effect this has on the community and the families of those who served in the forces to protect us. It's disrespectful."
The feeling of anger at the actions of the vandals was echoed by the community when the council announced the damage on social media. Ray McLean, councillor for Elgin City South said it has caused many residents "a great deal of distress."
Mr McLean, a former submariner, said he was "incredibly sad and angered" to hear of the "senseless" vandalism of the sculpture.
"I hope those responsible take a long hard look in the mirror and that the gravity of their action somehow sinks in."
Leader of Moray Council, Councillor Graham Leadbitter, urged anyone who may know anything about the incident to contact the police.
"I sincerely hope that those responsible are caught and perhaps the biggest impact on them would be an education on the horror of war, what it meant being a soldier in the First and Second World Wars and the impact that the loss of so many, mostly young men, had on communities the length and breadth of Moray and across the whole country."
A police spokesman said: "Inquiries into the incident are ongoing. Anyone with any information is urged to call Police Scotland on 101."