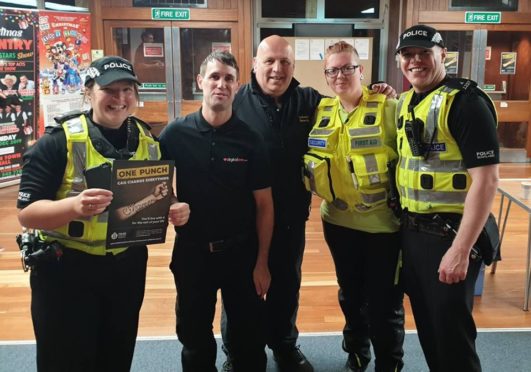 A police drugs crackdown at a Moray dance night has been hailed a success – with no arrests being made in relation to illegal substances.
Officers were out in force at the Cream event at Elgin Town Hall on Saturday evening, following a DJ night in the same venue earlier this year which resulted in two women and four men being charged with drug possession.
At that time, venue organisers vowed to stamp out any future problems to protect its reputation.
Yesterday, police revealed that the recent dance extravaganza at the hall had passed largely without incident – and praised the promoters and security staff who ensured it was a success.
PC Donald Matheson said: "Due to the joint approach with our event partners, the evening passed without significant incident.
"There was only one woman in her 40s who was arrested, which was for her behaviour outside the venue after being ejected.
"Thanks to everyone for making this a safe and enjoyable event."
Local officers were accompanied by police dog Hamish, and offered advice to people in an effort to tackle alcohol-fuelled violence.
Cream is a legendary dance brand, veteran DJs Tall Paul and Seb Fontaine played to an appreciative crowd.
Tall Paul reached number five in the UK pop charts with Let Me Show You in 1998, under the name Camisra, and has produced a string of hits including house anthem Rock Da House.