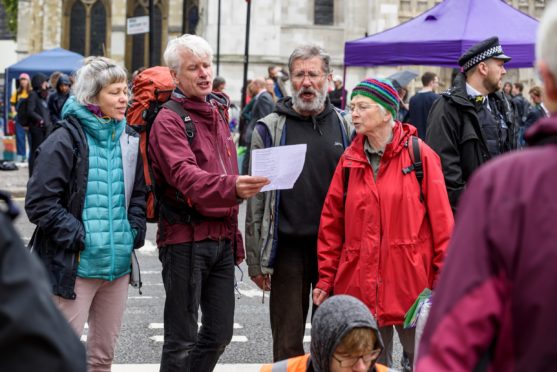 Members of the Forres branch of the Extinction Rebellion group say that staging controversial climate change protests in London was a "powerful experience".
About 10 people from the local group travelled south to join forces with thousands of like-minded individuals from across the UK for two weeks of non-violent demonstrations earlier this month.
Some of the locals were among those who were arrested as tensions ran high during the fortnight.
But Charlotte Goodwin, a member of the Forres group who took part, described the gathering as "a peaceful and joyful gathering".
She added: "It was a powerful experience. We must make the government act now."
Another member, Mick Drury, said the London protests had been a success and voiced his admiration for the "brave" people – of all ages – who put themselves forward despite the risk of being arrested.
He said: "It has been effective at keeping the seriousness of the issue in the minds of the politicians and public."
The aim of the Extinction Rebellions protests was to highlight the importance of climate change and pressure the government to take significant, immediate action.
However, the group and their demonstrations faced criticism due to the disruption of transport routes in the city.
Their activity cost the Met Police an estimated minimum of £21 million and Dame Cressida Dick said it had placed "a horrendous strain on London and on the Met".
She added: "We have to, whatever the cause, stop very serious disruption when it is unlawful, which it most patently is."
Mr Drury said: "It is perfectly understandable that people would be frustrated but this is a necessary action.
"Hopefully people took on board the message that the climate situation is getting more and more serious."
The local group will host a meeting on Monday at the Tolbooth, Forres, where members who have returned from London will share their experiences.
Photographer Mark Richards will present images collected during the fortnight.
The group will discuss what is next on their agenda and Mr Drury has urged locals to get involved.
He said: "Come along and find out more about it, we're a friendly group of people working together on principles of co-operation. We are open to listening to other people's points of view."