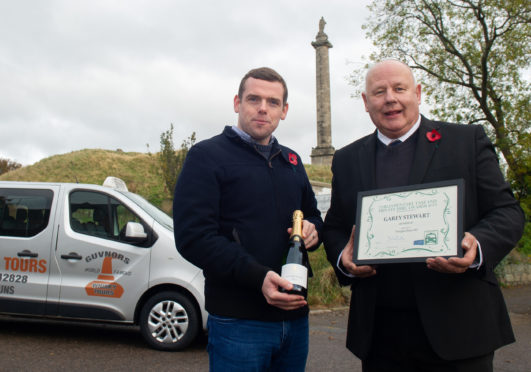 A Moray taxi driver has been named as one of the best in the UK after devoting himself to looking out for the community.
Garey Stewart, from Elgin, made headlines across the country after transporting a woman in labour in the back of his cab to Aberdeen to give birth.
The anxious mum-to-be contacted the businessman, who celebrated 13 years trading as Guvnor's Taxis yesterday, after fearing she may have no way to get to the Granite City.
After several days of exchanging texts the driver was alerted late on a Sunday evening to make the critical 65-mile journey south.
Pregnant women could be forced to travel from Elgin to Aberdeen to have their babies
Meanwhile, Mr Stewart has also started running tours for local pensioners suffering from loneliness in an attempt to reunite them with old friends and share memories of past times.
Yesterday the cab driver's contribution to the community was recognised as he was named as the runner-up in the inaugural Parliamentary Taxi and Private Hire Awards.
He said: "In my job you see a lot of things going on. I've been in Elgin all my life, I'm born and bred here, and I know a lot of people and take an interest in how they're doing – I can see if they're maybe struggling a bit.
"It makes a difference just to show a bit of interest and let them know that there's somebody there for them to turn to or just offer them some help.
VIDEO: Taxi driver takes Moray pensioners on day trip to try and reduce loneliness among older population
"There are also a lot of people who maybe don't want help or are too shy to ask, just offering that little bit of help is good though."
Mr Stewart intends to continue running memory tours for local pensioners to some of Moray and Speyside's most famous sites.
Tales of his trips across the region have also attracted tourists to return to the region time and again to witness, among other things, the driver playing the bagpipes under the Craigellachie Bridge and be regaled with his stories.
Moray MP Douglas Ross, who nominated the businessman for the award which was decided by a judging panel, said: "Moray has a lot of people who just look out for others and go above and beyond, I think Garey stands out for what he does for what he has done going beyond the call of duty."