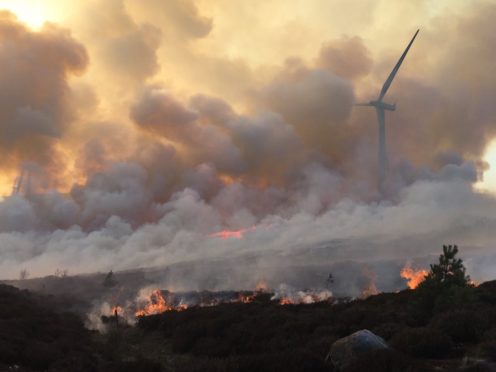 Wind farm developers in Moray have donated £10,000 to a charity dedicated to helping emergency services after fire crews saved their turbines from a massive blaze.
The Paul's Hill site near Knockando was in jeopardy in April after flames that took hold in dry grass spread to the development.
Now developer Fred Olsen Renewables has made the donation to the Fire Fighters Charity, which supports crews and their families, to recognise the contribution local staff made during a battle that lasted several days.
The gesture comes after it was revealed that almost every part of the north of Scotland recorded an increase in the number of fires last year.
Bruce Milne, station commander at Elgin, said: "It was a very demanding task to bring this wildfire under control in such a remote area.
"We mobilised a large number of resources from across the region, including crews of retained firefighters, who respond to emergencies while juggling other commitments including employment."
Stuart Naylor, operations manager at Fred Olsen Renewables, said: "We are extremely grateful to the fire service and all those individuals involved in attending and controlling the wildfire near Aberlour earlier in the year.
"Without such professionalism and bravery, the situation could have been much worse.
"This donation reinforces our gratitude, and we hope the funds can be used to make a real and positive difference to those concerned."