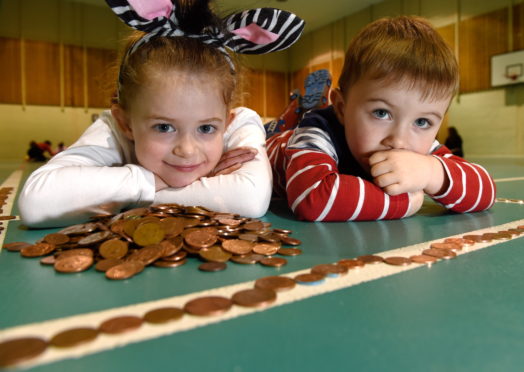 A rainbow of pennies has been created by safety campaigners in Moray to improve routes to school.
Lossiemouth Community Council had hoped to create a mile-long trail of the coins along the waterfront.
However, heavy rain forced the group inside with a copper rainbow instead being created in the sports hall at the local community centre.
More than 40 youngsters, many of whom brought bags packed with pennies, joined the efforts to improve road safety outside St Gerardine Primary School.
Fears have been raised about the site since crossing patrollers were axed by the council during the summer holidays due to budget cuts.
The community council has launched a fundraising drive to install a traffic island on the road to make it easier for children to cross to get to class.
The project is expected to cost about £15,000 but may be reduced if local firms pledge to support the initiative.
Campaigners are still counting the mounds of pennies that were brought to Saturday's fundraiser but expect "hundreds of pounds" to be added to the £5,000 already raised.
Carolle Ralph, vice-chairwoman of the community council, praised the response of locals to drive forward the safety improvements by emptying pockets and jars to donate loose change.
She said: "The children are going to benefit the most so it was amazing to see so many of them come along to help.
"It was really interesting to speak to parents who came along who were saying that they don't let their children walk to school at the moment, simply because they think it's too unsafe.
"People are still handing money into us, it's been really nice to see the amount of support there is for this."
Work to install traffic lights at the School Brae junction near the primary school has already begun.
However, concerns have also been raised about the road directly outside the gates with pupils working with police to educate motorists found to be exceeding the 20mph limit.
Lossiemouth Community Council hope to install the new traffic island during the Easter school holidays. The group has arranged a further fundraiser for when the town's Christmas lights are switched on on November 30.