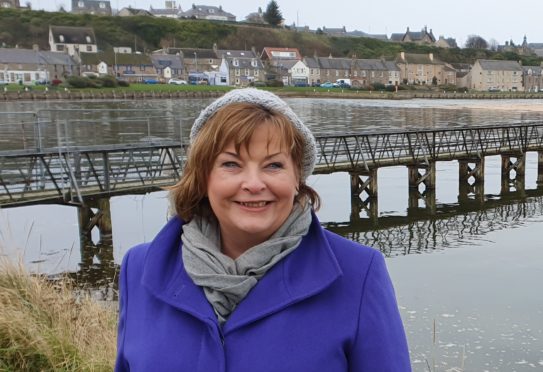 Tourism minister Fiona Hyslop praised campaigners for making a "compelling case" to persuade the government to replace an important Moray footbridge.
Lossiemouth has been cut off from its East Beach since July after the existing 100-year-old crossing buckled under the weight of summer visitors.
Talks are due to be held this week between local campaigners, Architecture and Design Scotland and public sector officials after the Scottish Government pledged to cover the estimated £500,000 bill for a new bridge.
Hopes have been raised that the meeting will deliver a timeline for when locals can expect to be able to walk on the sands once again.
Yesterday Ms Hyslop praised the Lossiemouth Community Development Trust during a visit to the town for making a "compelling" case to persuade officials to pledge the support.
She said: "Clearly in terms of the uniqueness of the bridge, it's the only access to the beach which makes it an issue of safety because of the tidal features.
"It's a critical part of the Moray coastline, therefore, in challenging financial circumstances, we knew how important it was. Tourism is everyone's business and the bridge has an impact on the rest of the town.
"I did have to make a unique case for it but that was helped by all the work of the community – it was a case that was convincing and compelling."
Ahead of the bridge's closure, the Lossiemouth Community Development Trust drew up three options to replace or repair the crossing – with a new structure leading to Clifton Road being the preferred option in a vote organised by the group.
It is understood this week's meeting will examine the feasibility of different projects before gathering further views from locals.
Rab Forbes, chairman of the trust's bridge committee, said: "We're very keen to make progress. People may think there hasn't been much recently but there has been a lot of work to do.
"It's very unlikely we will fix this bridge. This one has been here for 100 years, we want to make sure what we do now will last for another 100."
Moray MSP Richard Lochhead said: "We now need everyone involved to focus on getting the replacement bridge built as quickly as possible given how important it is to the local economy."
During her visit to Moray, Ms Hyslop also opened the government's next round of applications for a share of a £3million fund to support rural tourism projects.
The minister made the announcement during a visit to Pluscarden Abbey, which has already received £80,500 to create new car park spaces and toilets to cope with increased visitor numbers.
Ms Hyslop said: "This investment is crucial so that visitors from home and abroad can continue to enjoy our fantastic landscape, culture and hospitality for years to come."