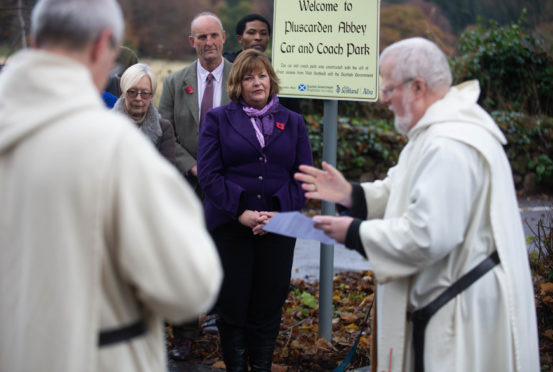 A new car park built at a historic place of worship in Moray has been blessed by its resident monks.
Pluscarden Abbey near Elgin has been a place of peaceful solitude and quiet contemplation for more than 700 years.
However, in recent years the monastery's ancient infrastructure has struggled to cope with an increasing amount of visitors to the 13th Century site.
Multiple coach groups arriving at the abbey at the same time have led to reports of the grounds becoming "swamped" with tourists.
The monks have stressed they are comfortable with the increased amount of people taking an interest in their way of life but have been eager to ensure the area is able to accommodate the parties comfortably.
Father Abbot Anselm blessed a new car park with prayer and holy water this week after the Scottish Government's minister for culture and tourism Fiona Hyslop opened the site.
Dom Benedict Hardy, prior at the abbey, said: "In the planning of the project, there has been no thought of attempting to attract more visitors to Pluscarden or to make money out of their visit – only to cater for the increased numbers we are experiencing.
"Nevertheless, a tourist-friendly upgrade has definitely taken place here.
"The monastery is not in view, so visitors will still have to walk up the drive before actually seeing it."
Ahead of the project there was only space for eight cars with no dedicated room for coaches at the gates.
The new facility can accommodate up to 30 cars and two coaches with new toilets, picnic tables and sign boards to display pictures and the history of the monastery.
The upgrade cost about £115,000 with £80,400 being supplied by the Scottish Government's rural tourism infrastructure fund and the remainder funded by the abbey.
Fundraising is continuing to help pay for a £1.8 million restoration for the place of worship's south range, which will include the conversion of the St Scholastica's building next to the new car park into a visitor centre.
Ms Hyslop said: "While we should be proud that Scotland's breathtaking natural scenery and rich historical sites attract so many visitors and help the local economy, we know that this success is often tempered by increased pressure on communities, services, transport and facilities – particularly in rural areas."