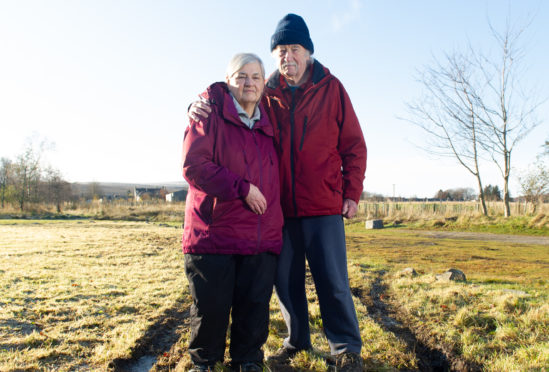 Devastated campaigners in a Moray village claim they have been blocked from protecting a colourful tribute to cancer victims from damage caused by motorists.
More than 8,000 daffodil bulbs were planted on the approach to Tomintoul three years ago to create a floral memorial for locals' loved-ones.
However, the remembrance garden has been repeatedly chewed-up by vehicles driving over the ground since it was formed – including twice within the last week.
The Glenlivet Estate has stressed it has plans to make improvements in the coming weeks.
But retired civil servant Mike Budd, who lost both his parents to cancer, says he approached local officials more than three months to install larger stones to protect the flowers – even offering to source and place them himself.
The Tomintoul resident claims he has been prevented from doing so due to concerns their look may not be "natural".
Mr Budd said: "There's a quarry nearby so getting the stones isn't a problem. I also offered to put a second sign in but they said that wasn't natural either.
"There's a wooden bird hide with lots of signs nearby. I don't have a problem with it, but I don't think that's particularly natural either.
"Over time some of the stones have sunk, so it might be accidental that people are driving over it, but that's no excuse for the inactivity in protecting it.
"One of the most recent incidents was on Remembrance Sunday."
Mr Budd and his wife Des, who lost her mother and two brothers to cancer, opened the "field of hope" in 2016 following support from a small army of volunteers and children from the village school.
The eye-catching yellow displays have been created across the country to raise awareness for charity Marie Curie.
Concerns were also raised about "joy riders" tearing up the Tomintoul field, which is near the A939 Lecht road junction, in early 2017, when foot-deep tracks left bulbs strewn across the ground.
A spokesman for the Glenlivet Estate said: "We have a plan in place to make the necessary improvements to this area by sourcing large rocks from our local quarry and placing them in appropriate positions.
"We have kept in contact with and updated Mr Budd throughout, including a site visit to agree the most appropriate measures.
"We hope to have the work completed in the next few weeks."