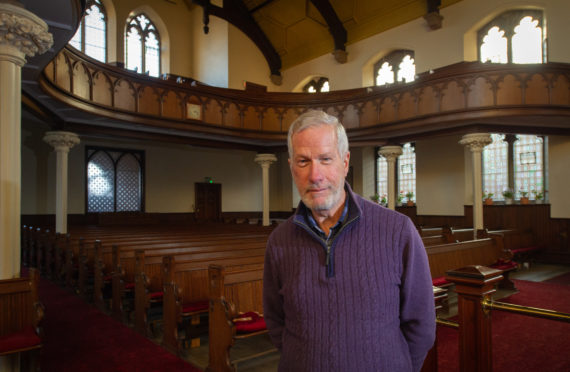 A Moray church congregation fears it is in race against time to prevent its 116-year-old home from falling victim to the effects of winter.
St Leonard's Church in Forres has welcomed countless families and groups through its doors since its formation in 1903.
However, despite the building being busier than ever, the congregation are facing mounting bills to make the roof water-tight once again.
Church members have estimated that more than £28,000 of "urgent repairs" are needed to prevent further damage to the interior.
They are holding out hope the cash can be secured soon to ensure the work can be done before the worst of the freezing temperatures hit.
A "day of giving" will be held on Saturday, with groups who call the church home gathering to raise funds.
Roy Anderson, session clerk at St Leonard's, said: "The church is busier than it has ever been.
"However, maintaining the fabric of this large building is a constant and costly challenge.
"We've applied for help from a number of funding organisations, including the Church of Scotland General Trustees, but there is no guarantee that will be successful."
Repairs needed to the roof include re-pointing as well as the replacement of some slates and maintenance on the gutters.
Leaks currently drip through the ageing structure during periods of heavy rain.
Sessions held in the church include a toddler group run by charity Step by Step, which supports isolated and vulnerable families, the local Boys' Brigade and puppy training.
Mr Anderson added: "There is no doubt that St Leonard's has a special place in the heart of many Forresians.
"We need to hit our appeal target as soon as possible to ensure the vital work is carried out before the onset of the worst of the winter."
Saturday's event in the church, which will run from 10am to noon and from 2-4pm, will include tea, coffee and homebakes to raise money for the repair fund.
Donations can also be posted through the letterbox at the side entrance in envelopes marked "St Leonard's Roof Appeal".