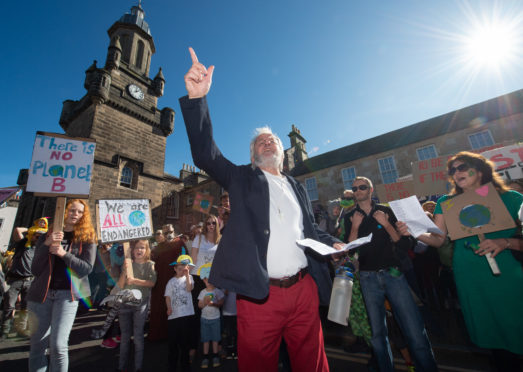 Environmental campaigners are preparing to hold a "mass die-in" in Moray this week to highlight climate change concerns.
Protestors from the Forres Extinction Rebellion group will dress in blue to represent rising water levels before cycling the predicted sea level in 2050 to highlight how much of the Findhorn Bay coastline may find itself underwater in 31 years.
A map drawn by US-based research group Climate Central has raised concerns that Findhorn and the eastern and southern edges of the bay may be affected by flooding in three decades.
Friday's event has been organised as part of a global climate strike with people across the world taking part to demand an end to using fossil fuels.
The protests will culminate in a "mass die-in" on Forres High Street to highlight the mass extinction of species across the world caused by changing weather.
Group member Andy Heath has called on Westminster representatives to call public meetings to explain the science of "climate breakdown" while justifying why net-zero targets have been set at 2050 and not sooner.
He said: "This protest is calling the government to account. People are increasingly worried and fearful and want to see radical policy change and action – not more calls for individual habit change and bland statements that 'we are all doing out bit'.
"If our children were sick, would we delay the treatment, given we know what the problem is and how to solve it?"