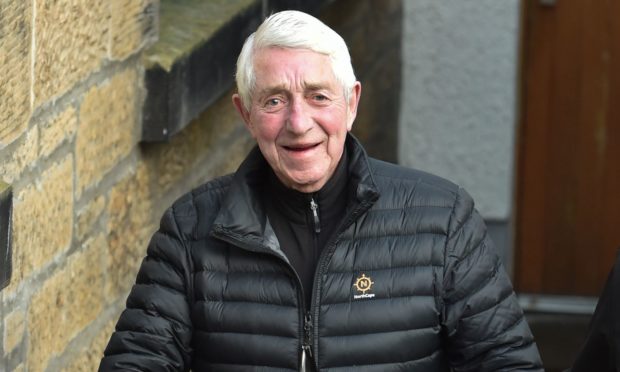 A shamed Highland League stalwart has been jailed for indecently assaulting two teenagers.
John Henderson, a former secretary of Forres Mechanics, was locked up yesterday after being condemned for "predatory" behaviour that exploited his position of trust.
The 78-year-old's solicitor, Duncan Henderson, had argued his client should be spared a spell behind bars due to his old age and poor health.
And he also claimed completing a social work programme – an alternative to custody – would be "arduous" enough for him.
Sheriff Olga Pasportnikov, however, rejected the pleas as she described the attacks as an "invasion of privacy" that had affected both victims' lives.
Henderson's attack on the first teen, which occurred on a date in the late 1970s or early 1980s, traumatised the youngster to the extent he gave up on his dreams of playing football.
Sheriff Pasportnikov said: "These offences have been committed against a background of a position of trust and a gross invasion of privacy.
"The first charge had the effect of causing the victim to stop playing football. The second involves an assault on a young stranger.
"All together, I consider these offences were predatory in nature and consider them to be a course of conduct."
The first assault took place in Forres following a chance encounter between Henderson and the teen.
The pensioner, who was a football official at the time, asked the youngster to sit with him on a bench before striking up a conversation about the sport.
When Henderson put his hand on the boy's thigh a struggle ensued with the teenager who tried to get away before being indecently assaulted – an incident that left the youngster "frightened and shocked".
The second attack occurred within pub toilets in Forres at Christmas time in 2001 after the victim had started a conversation with Henderson after spotting him wearing his Forres Mechanics tie.
About 30 minutes later, the pensioner followed the man, who was in his late teens, to the bathroom and assaulted him.
Henderson was detained for interviews in early 2002 but it was only after the victim from the earlier charge came forward in 2017 that an inquiry was launched.
Other charges related to incidents alleged to have taken place in Inverness and Forres in the 1970s and 1980s were dismissed after not guilty pleas were accepted.
Mr Henderson's solicitor explained that some details contained in social work reports prepared ahead of yesterday's hearing contained "third-party information" and related to matters not before the court.
He added: "Mr Henderson understands the seriousness of his position.
"He finds himself at 78 years of age as a single man in relatively poor health having suffered a stroke since his retirement.
"He is unfit to do unpaid work but I would submit that, given his age, complying with the Moving Forward Making Changes social work program and working with police in relation to the monitoring of him as a sex offender would be arduous enough."
Henderson, of Bogton Road in Forres, was jailed for 292 days.
He has also been placed on the sex offenders' register for 10 years.