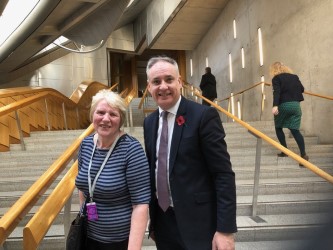 Moray resident Rita Graham was asked to inspire a crowd at the Scottish Parliament with a keynote speech on adult learning.
Ms Graham delivered a talk on the impact Lead Scotland has had on individuals across the country as the charity celebrates its 40th anniversary.
She'd never before delivered a public speech, but stepped-up to address a large audience at the parliamentary reception and recount her own story of overcoming barriers with Lead Scotland's help.
The charity was founded 40 years ago by a passionate group of Edinburgh volunteers who had a vision for a national home tutorial service that would help disabled people denied opportunities to learn once they moved on from school.
After herself being diagnosed with anxiety and depression, Ms Graham heard of Lead Scotland's personalised support in 2016 and embarked on an eight-week cognitive behaviour therapy course at Moray Wellbeing Hub.
She has since gone on to achieve a nationally accredited award and become a champion for her local centre.
Ms Graham said: "It is good to know that others believe in you when you struggle to believe in yourself. I did it and felt proud of myself for getting my first qualification."
Emma Whitelock, Lead Scotland's chief executive officer said: "We are so proud of what Rita has achieved and I hope many people follow in her footsteps, by taking that first step outside their comfort zone."
Moray MSP Richard Lochhead added: "Adult learning can transform lives and I'm sure Rita inspired many people when they heard her inspirational learning journey."