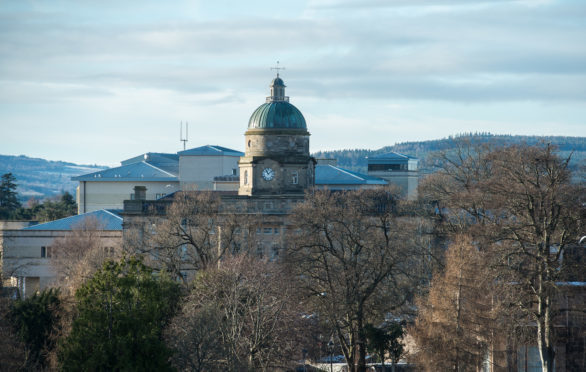 Health campaigners in Moray have accused management of "wasting a year" amid fears that maternity services have deteriorated despite promises of progress.
Dr Gray's Hospital was downgraded in July 2018 – the consequence of a staffing crisis which made NHS Grampian decide it was no longer safe to keep running the women's services at a full level.
Management initially warned the disruption could last up to 12 months before pushing the target to have the Elgin unit back to full strength to spring next year.
Now figures published by the NHS have revealed that the proportion of births in Elgin for local mums has reduced amid an increasing trend for procedures being done in Aberdeen and Inverness.
NHS Grampian has stressed that births at Dr Gray's remain an option for "low risk" pregnancies.
But campaign group Keep Mum fears progress on restoring maternity services to a consultant-led unit is too slow amid a situation that is "untenable" for families.
Spokeswoman Kirsty Watson said: "It is clear that the number of births at Dr Gray's hospital has decreased.  We have witnessed at first hand just how quiet the maternity ward is.
"We know that some staff are very disappointed that progress has apparently ground to a halt.
"We lost elective sections at the end of August this year and the service is significantly poorer than it was a year ago.
"As time has gone on without a resolution, we know that pregnant women in Moray have become more and more anxious about safely delivering their babies.  Such stress and anxiety is a very real threat to the baby in the womb."
NHS Grampian has published an action plan for how it will ensure maternity services can be sustained in Elgin in the long-term.
However, progress reaching the target has been held up due to stumbling blocks about increased workloads on other departments, including anaesthetics – with warnings restoring procedures in April next year is becoming increasingly unrealistic.
A separate downgrade to children's services remain on target to be restored in April next year with a new model with recruitment already underway and appointments expected in February.
A NHS Grampian spokeswoman said: "As key partners in the production of the plan for services in Dr Gray's, our public representatives and other stakeholders have always been included in open discussion about t​he staffing challenges we face around obstetric care at the hospital.
"The hospital remains an option for low risk, non-caesarean, midwife-led care. However, for the safety of both mother and baby, more complex deliveries must take place in Aberdeen.
"Safe care must be a priority for us and we continue to work hard on a long term solution to the staffing problems."