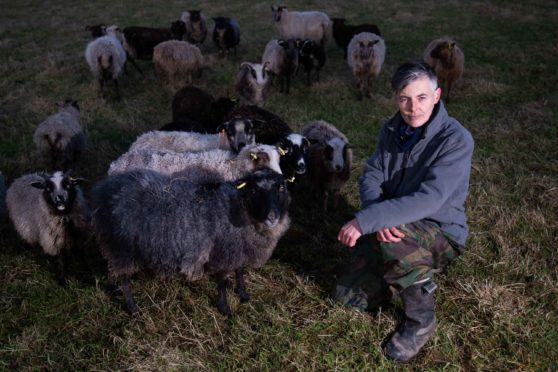 A farmer whose livelihood was destroyed when a dog killed several of her sheep has been denied justice after legal notes were "misfiled" by prosecutors.
Christine McKinnon says her self-run business was left in ruins when a dog savaged eight of her flock of pregnant ewes to death in a field at Fyvie last year.
The "bloodbath" meant that eight sheep had to be put down immediately, while many others in the 39-strong flock needed stitches for bite wounds.
Miss McKinnon was left thousands of pounds out of pocket by the attack, and had been hoping to secure compensation from the dog's owner by pursuing a criminal conviction.
But her plans were dashed when the Procurator Fiscal in Aberdeen advised her that staff had been unable to progress the matter to court in within the six-month time limit – meaning that no case could be mounted.
A spokesman for the service repeatedly denied that the paperwork had been lost – insisting it had been "misfiled" due to an "administrative error".
Miss McKinnon, who lives in Banchory after relocating from Forres, claims that she needed the court-ordered payout to bounce back from the attack.
She said: "When the dog attacked my sheep it severely reduced my flock and my business, I basically have no business left.
"It would never undo the loss, or my trauma, but at least I could have had closure and a chance to rebuild my business.
"Now, I just don't want this to happen to anyone else."
A Crown Office spokesman said: "Due to an administrative error, it was not possible to prosecute this case within the statutory time limits and there could be no proceedings.
"We have apologised to the complainer in this case."
Miss McKinnon built her business up six years ago by initially purchasing 10 sheep, which she gradually bred up to a 39-strong flock by the time of the attack.
It was on the morning of March 2, last year, that she came across the horrifying sight of the animals being mauled.
On her daily routine of feeding her flock at 10.30am, she was initially confused that her sheep were not at the fence as usual.
Miss McKinnon ventured into the field and discovered a dog attacking her sheep, with each one left bleeding from bite wounds.
She hurriedly called the vet and the police, with Miss McKinnon saying that one officer described the scene as a "bloodbath".
Eight of the sheep had to be put down immediately to end their suffering, with others requiring up to 80 stitches.
She added: "It affects every part of my day, every time I go up to see my sheep in the morning I've just got this constant lump in my throat.
"I still have flashbacks and I'm heartbroken.
"Last year was the first year I was supposed to produce wool and, because of the attack from the dog, he destroyed all 39 fleeces – he didn't just kill eight sheep."
It takes a further four years for her sheep to grow high quality wool again.
While Miss McKinnon she said she is not financially able to pursue compensation through civil action, she is hopeful that she will be able to rebuild the business with her remaining animals.