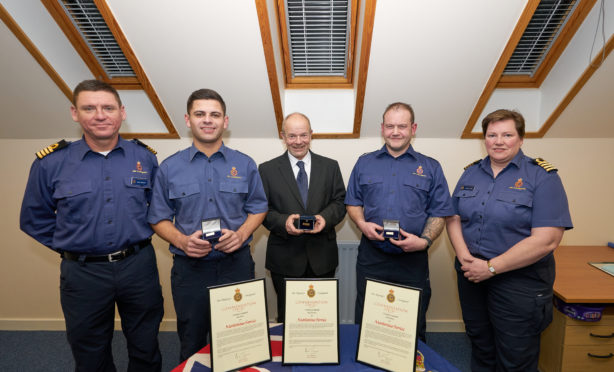 Three Buckie coastguards have been commended for their valiant attempts to save a woman who drowned in the harbour.
A ceremony was held at Buckie Coastguard Station in Moray at which the three coastguard rescue officers, Rick Hemsley, Kris Herd and John Murray were presented with commendations for meritorious service from the HM Coastguard Chris Thomas by two divisional commanders for the north.
In addition to these three members receiving commendations, all of the Buckie coastguard team who were present on the night of the accident last year were awarded a letter of appreciation for their assistance.
On August 6, 2018, a 61-year-old woman died after drowning in the North Pier area of the harbour despite concerted efforts to rescue her by the volunteers.
Rescue officers Mr Murray and Mr Herd immediately leapt into action by throwing a lifebelt to the woman before entering the freezing water.
They were then joined by Mr Hemsley while they strove to keep the woman afloat. The woman was then airlifted to Aberdeen Royal Infirmary, but she later died.
Mr Hemsley, who has since retired from the coastguard, said the commendation was "totally unexpected."
He added: "It was just an automatic reaction because of the very good training which we have all had.
"I am very proud to have been a volunteer for the Buckie Coastguards, they are essential to filling the gap between other emergency services."
Sue Todd, divisional commander for the North said: "In this case, it wasn't a positive outcome, but it doesn't distract from the efforts of those involved and the efforts they went to try and give the lady the best possible chance of survival."
Fellow divisional commander, Matt MacKay added: "The Buckie Coastguard service is unique, it does take dedication and it's a long term commitment, but I'm sure the community of Buckie are very proud of their local friends and neighbours.
"I'm always in awe of the skill and bravery, which they have deployed."