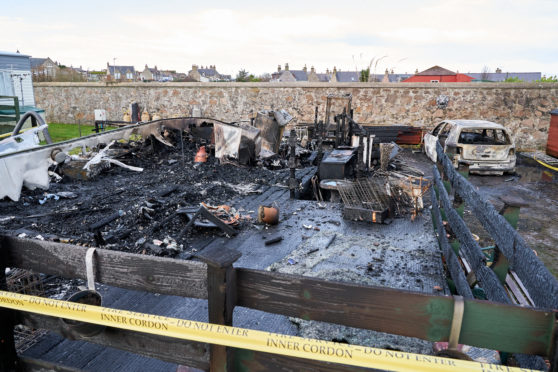 Homes were evacuated in a Moray village in the early hours of yesterday morning amid fears of a massive gas explosion.
Emergency services were called to Portknockie after a holiday home was engulfed in a blaze.
Only the decking and charred ruins remain of the caravan at the beauty spot overlooking Cullen Bay, with a car parked next to it also being reduced to a shell.
Fire crews arrived at the Melody Brooks Holiday Home Park shortly after 1am and immediately evacuated four neighbouring homes on Geddes Avenue amid concerns about nine gas bottles just yards away from the fire – with more outside other caravans.
The neighbouring primary school was opened up during the night for affected residents to take shelter before they were allowed back shortly before dawn.
One local reported hearing bangs through the night resembling fireworks while emergency crews worked to stem the flames.
Another said: "I was in my bed and then the fire service came to the door to say we had to leave. They were worried about the gas bottles.
"They opened up the school for us to go in and get something warm to drink. It's good nothing happened to the gas bottles in the end."
Three fire engines were called to the holiday park at about 1am with the blaze reported to be under control at about 2.30am.
Emergency crews treated one person for smoke inhalation at the scene.
It is understood a man had been staying in the holiday home in the days leading up to the fire, with the rest of the units on the park currently unoccupied.
Items resembling a dog cage and a bird cage could also be seen amongst the remains of the burnt out caravan.
Keith and Cullen councillor Laura Powell, who lives in Portknockie, visited the scene yesterday to survey the damage for herself.
She said: "It really is a devastating scene. With a strong wind though it could have been 10 times worse.
"It's amazing nothing else was damaged, just the side of the caravan next to it. The fire service has done a good job."
A fire service spokeswoman said: "We were called at 1am to reports of a caravan on fire in Portknockie.
"Three appliances were sent. We used four breathing apparatus, two jets, one hose reel jet and three ground monitors. The stop message was received at 2.22am."