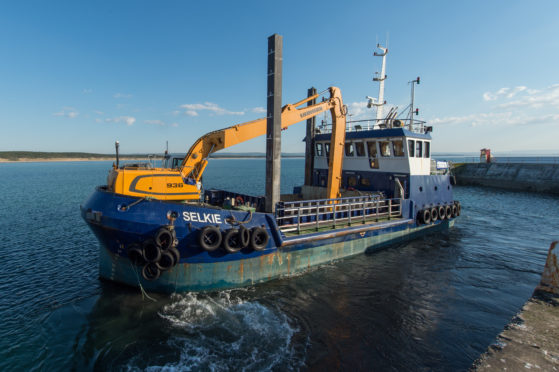 Calls have been made for Moray Council's dredger to focus on its own harbours following trips outside the region for commercial contracts.
The Selkie was launched by the authority nearly four years ago amid hopes it would generate income from being hired out while saving cash by keeping local ports clear.
However, concerns have persisted about the condition of Moray harbours with reports of vessels striking sandbanks.
Last year the Selkie, which cost £2.4million, carried out short commercial contracts at Whitehills and Banff Marina as well as six-day trips to Newhaven and a 25-day expedition to the Forth Estuary.
Moray Council has stressed that its dredger is expected to tour local ports in the coming weeks before continuing operations outside the region.
But calls have been made for it to spend more time in its own harbour after dredging nothing from Findochty, Portknockie, Cullen and Hopeman during 2018/19.
Conservative councillor Marc Macrae said: "Whilst on one hand I can appreciate the issues which arose this last year and saw much less dredging undertaken than was planned, on the other hand I share the disappointment and concerns of harbour users from our smaller ports who have seen their ability to operate reduced.
"Our harbour users have seen the Selkie operate elsewhere in Scotland in this financial year whilst removing little from some of our own harbours, a matter which clearly frustrates them.
"Whilst this is good that the vessel is capable of commercial operation and bringing revenue to the council, it was however commissioned and built to dredge Moray's harbours."
It is understood that Burghead will be the first destination for the boat when dredging resumes this month.
Buckie councillor Sonya Warren, co-chairwoman of Buckie Harbour's advisory board, said: "It's disappointing there has been so little dredging in our local harbours but that has been due to circumstances involving maintenance.
"There is a plan in place for the Selkie for the next six months which will hopefully demonstrate better resilience to staffing issues and improve dredging."
A Moray Council spokesman said: "After dredging local harbours on the Moray Firth in preparation for the 2020 season, the Selkie is expected to continue operations in external harbours.
"Priority will be the maintenance of Buckie and Burghead commercial harbours.
"Performance is not measured in tonnage as many of the small harbours the vessel was designed for do not produce a lot of silt. Its performance is measured in days dredging and income from external contracts."