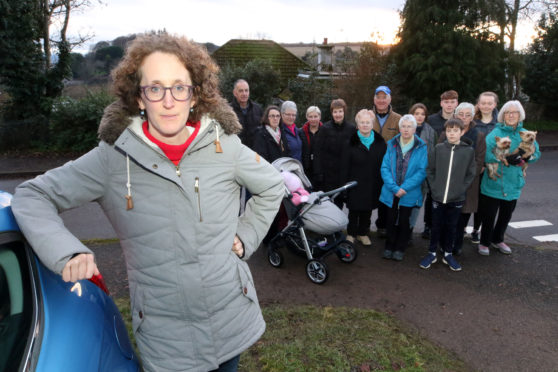 Campaigners in a north community are mobilising to stop telecoms giant O2 from placing a huge mast in a residential street in the heart of their village.
Avoch residents say they are wary after seeing workmen dig a hole to check the underground connections days after reassurances from the contractor that alternative sites would be sought.
O2 says the 60ft mast is necessary to provide additional and improved telecommunications for the customers in the area.
It would be placed on the footpath at the junction of Mackay Terrace and School Brae.
When Avoch residents became aware of the early proposals to put the base station mast in Mackay Terrace, the community council moved immediately to hold a public meeting.
Helen Baillot, Avoch and Killen community council(AKCC) chairwoman, said: "Residents are concerned about the height and visual impact of the installation with its two transmission dishes, three antennae and four cabinets, and found the potential visual, noise and emissions impact on nearby residents unacceptable.
"We're also unconvinced about the case for this mast, and are asking why this site.
"We've offered to engage with them on alternative sites."
After expressing their concerns to Harlequin, AKCC heard back from them that a review was underway to see if the design issues could be resolved or an alternative location found.
But a few days later, Mackay Terrace residents woke up to find workmen digging a hole to check for electrical connections to the proposed mast.
Mrs Baillot said: "We immediately contacted Harlequin, and they've written back saying it's a trial and 'purely exploratory.'
"They said they stood by their previous assurances to meet us in the New Year.
"There's no planning application in yet, but for residents seeing people digging around, it doesn't engender trust.
"It would have been more politic to postpone such a trial dig."
Mrs Baillot said residents close to the site are keeping a watching brief on the situation.
She said: "We can't understand why they are proposing to site a mast in a residential area, so near houses."
A spokeswoman for O2 said: "Base stations are low powered devices which cover approximately half a mile in radius, therefore we have to put base stations close to our customers.
"O2 identified that they need to improve coverage to their customers in Avoch and proposed a base station site at Mackay Terrace, we are now undertaking consultation with the local community and have committed to reviewing alternative locations for a base station in the Avoch area.
"We recently undertook a small amount of work at Mackay Terrace to establish if there are any underground services at this location, this information will help us to assess if the site is suitable for a base station."