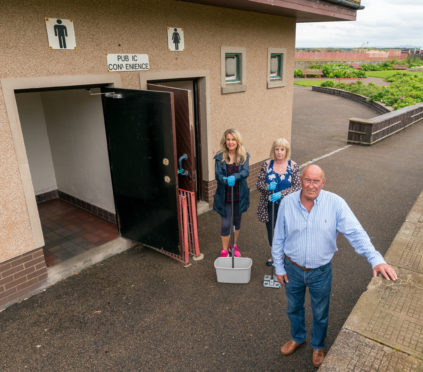 Figures show that vandalism of public toilets in some areas of the north and north-east have cost councils a small fortune over the last five years.
For many people and particularly those who are elderly, disabled or a parent of an infant, access to a clean and convenient public toilet is a necessity.
However, incidents of vandalism can render a toilet unusable for several weeks or months while repairs are underway.
These reparations and repeated maintenance also rack up expensive bills for councils and take away from other uses of funds.
The most recent incidents have involved Thurso's award-winning toilets, which have been vandalised three times in a matter of weeks, prompting police to yesterday issue and appeal for information.
Figures released by Moray Council under the Freedom of Information (Scotland) Act show it has had to pay out on repairs 99 times since 2014 due to acts of vandalism – costing the authority £43,000.
Aberdeenshire Council recorded 55 repair bills following vandalism of public toilets between January 2014 and 2019, totalling almost £9,000.
Shetland Council, which operates 24 public toilets, reported that in the last five years there have been 21 acts of vandalism, with the cost of repairs again £9,000.
Orkney Council and Aberdeen City Council figures reported fewer  incidences, dealing with one and three at a cost of £45 and £225 respectively.
Highland council said it was unable to release bills as they mark all problems with public toilets as "maintenance".
Vice-convener of Lossiemouth community council, Carolle Ralph, has been active in the community's public toilet group for almost 10 years.
As someone who has been involved in the public toilets since 2009, I was aware of issues with issues of vandalism but quite shocked to see how high the bills are.
"It's a huge burden and it's something we've struggled with across Moray for years."
Mrs Ralph noted that the Lossiemouth public toilets located at Station Park has been a hotspot for vandalism over the years due to their isolated location.
They now have to be closed early in the evening.
The figures from Moray council further showed that the number of toilets being maintained over the years had significantly decreased.
In each of the years 2015, 2016 and 2017 there were 32 toilets maintained by the cleansing department. However, this halved to just 16 in 2018 and 2019.
Mrs Ralph added: "I don't think it helps the argument for maintaining public toilets if the council is having to pay expensive bills for vandalism.
"We're doing our best to look after a facility and then people come along and abuse it, so it's very frustrating."
Meanwhile, former community councillor Alex Glasgow said the vandalism has seen the toilets on Thurso's Riverside Road closed at times.
And he said the antisocial behaviour was becoming becoming more noticeable.
He said: "These toilets are open 24-7 with a payment meter but there isn't a permanent attendant and, although checked routinely this unfortunately, does seem to lend itself to this type of behaviour.
"The toilets are the only public ones in Thurso and were entirely rebuilt at considerable cost in 2012 to be in keeping with the conservation area.
"They have won accessibility awards."
Police want to hear from anyone with information about the spate of vandalism, including graffiti and antisocial behaviour, which resulted in reports to the police on November 30, December 8 and December 15.
A spokesman said: "The council has cleaned the toilets up but the police would like to hear from anyone with information to assist with their inquiries."
Anyone with information is asked to call police on 101.
Local communities keeping their toilets open 
A growing number of former public toilets are being adopted by their communities to save them from being closed by hard-pressed councils.
Fundraisers and volunteers from across the north and north-east have clubbed together, particularly in more rural areas, to keep the "lifeline" bathrooms in operation.
Many groups with this aim have been founded in Moray, after its local authority was forced to close a dozen toilets last year in a bid to cut costs.
This included a block at Hopeman East Beach, which is now run jointly between locals and the council.
Chairman of the Hopeman Community Association, Dave Ball, said: "It is fantastic to have the toilets back, as it is a great asset for every beach user."
Volunteers in areas including Lossiemouth and Aberlour have also been hard at work to save their local amenities.
The public toilet at Cullen West Beach re-opened in April, with people banding together to give it a fresh coat of paint and new signs.
At the time, group member Julie-Ann Drake said: "It's amazing how a toilet can bring a community together and there is a feeling of pride and excitement that we are here with our beach toilets open to the public, looking fresh and clean and ready for the busy summer season."
Further afield, members of the New Deer Community Association in Aberdeenshire were handed the keys to the village's toilets on Main Street in 2017.