VIDEO: Boxing Day swim defies council charges to make a big splash
The 34th Burghead Boxing Day swim went ahead today, defying Moray Council's attempts to impose a charge of £100 on those staging the popular event.
A row earlier this year threatened the future of the swim, after Moray Council decided to charge the fee to cover 'administrative work and preparatory work by council staff.'
But an anonymous local businessman paid for the organisers to take legal advice on whether they were obliged to pay the fee and the issue was resolved in their favour.
Swim president Jamie Campbell said: "We made it clear to the council we weren't paying the fee on countless occasions, and we received the invoice on December 19.
"We have informed them about the legal advice.
"It was significant that there were no council employees in evidence on the day, which is what they said we had to pay for."
Mr Campbell said local people would not donate if they knew their money was going to the council, which has often cut funding towards the charities the swim supports.
He said: "People can jump off the harbour for free 364 days of the year, so why charge the swim?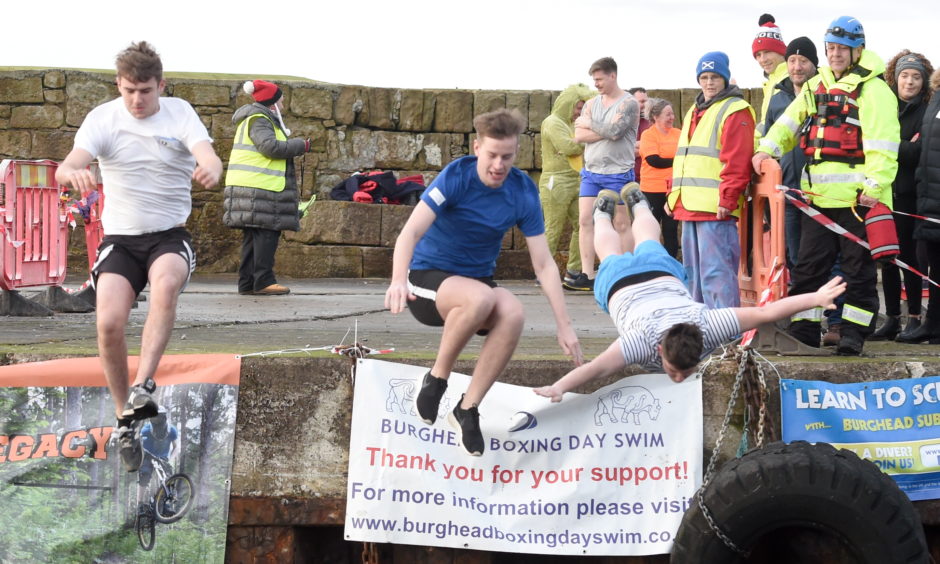 "We pay our insurance and road permit and, after that, every penny goes to local causes and that's the way local people want it."
This year, 60 swimmers braved the icy waters, many in family groups, and others representing the three chosen charities for this year, Marie Curie, Burghead Sub Aqua Club and Keirans Legacy.
There were more than 1,000 spectators and a raffle featuring 100 prizes donated by local business  which led to collection buckets filling up as the event progressed.
Mr Campbell said the total for this year is already sitting at more than £7,000, but there is still much more to come in from the raffle, collection buckets and sponsorship.
Last year, the swim had more than 1,000 spectators and raised £21,500 for a diverse variety of local causes.