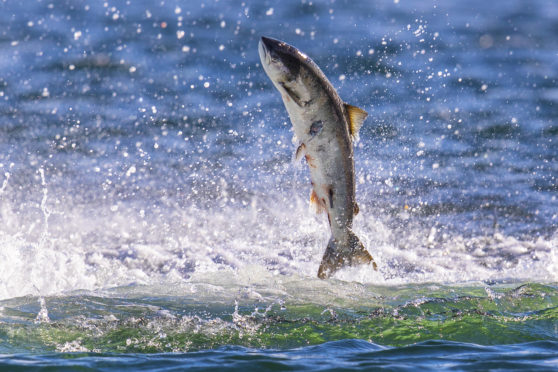 Campaigners fighting to make salmon conservation a national priority will take their fight to the Scottish Parliament today amid fears dwindling stocks are reaching "crisis point".
Declining fish numbers have been reported across the country and there are concerns about environmental change and a range of human impacts.
Just 3,100 salmon were caught on the River Spey during the 2018 season – the lowest since records began in the 1950s – against a backdrop of a national decline of nearly 70% over the past 25 years.
Talks due to take place today will aim to develop a strategy involving various groups to ensure the Atlantic salmon does not become extinct.
Alan Wells, chief executive of Fisheries Management Scotland, said: "Nature is sending us some urgent signals about what could happen next.
"Official catch figures for recent years confirm this iconic species is now approaching crisis point.
"Some of the factors impacting on wild salmon stocks may be beyond human control.
"But Scotland's government and regulatory authorities have a historic opportunity to do everything in their power to safeguard the species.
"Put simply, salmon conservation must become a national priority. Our leaders will be judged by their actions in meeting that challenge."
Today, the Scottish Government will announce a £750,000 funding package for the Atlantic Salmon Trust and Fisheries Management Scotland to track fish migration off the west coast to improve understanding of what happens at sea.
A project is already underway in the Moray Firth to tag and track fish heading to sea to try and improve survival rates on the route, which is used by 20% of all UK salmon.
Karen Ramoo, policy adviser at Scottish Land and Estates, said: "Mechanisms to conserve these vulnerable stocks and encourage sustainable economic growth must be encouraged and it is imperative that the right balance is struck between conservation and the interests of those whose livelihood relies on fishing for salmon."
Michelle Ballantyne MSP, who is hosting today's event, said: "With wild salmon stocks approaching crisis point it is now more crucial than ever that we, as politicians, listen to the experts and have a constructive conversation about what can be done to protect and replenish stocks."
The Scottish Government's environment secretary Roseanna Cunningham added: "The decline in the numbers of wild salmon returning to Scottish rivers is of great concern, and caused by a range of complex factors.
"That is why the Scottish Government has committed, in its latest Programme for Government, to develop a wild salmon strategy by September."