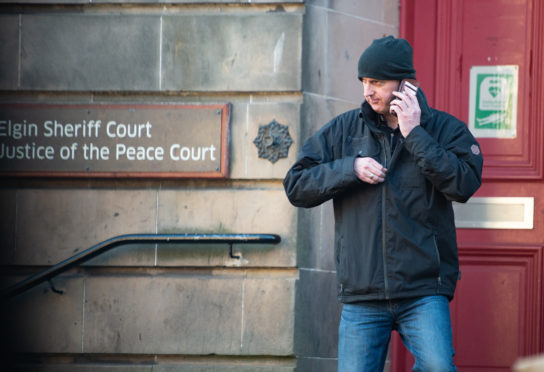 An Easter Ross man has been spared prison after bombarding a Moray woman with unwanted texts and phone calls for nearly two months.
Lee Blackburn, from Alness, repeatedly sent messages to the female he met through a dating website – even after ending the relationship himself.
Yesterday the 43-year-old shop fitter, who has previous convictions for similar offences, pleaded guilty to engaging in a course of conduct that caused fear or alarm between November 1, 2018 and December 23, 2018.
Fiscal David Morton explained the pair had connected through a website before embarking on a relationship together.
However, Blackburn's behaviour soon became worrying to the woman due to the amount of calls and messages – with him also spotted sitting in his car near her Elgin home on occasions.
Defence solicitor Stephen Carty accepted his client could have been jailed due to him having previous convictions for similar offences – but stressed he should be spared a custodial sentence due to him already taking action to address his relationship difficulties.
He said: "There was nothing particularly abusive or threatening in the messages. He has simply found it very difficult to let go of the relationship."
Sheriff Robert MacDonald said: "You are clearly someone who in the past has had difficulty not just ending relationships but also managing them but I note that you are making progress."
Blackburn, of Kirkside, was sentenced to 300 hours of unpaid work and ordered to pay £300 compensation. A three-year non-harassment order was also imposed.