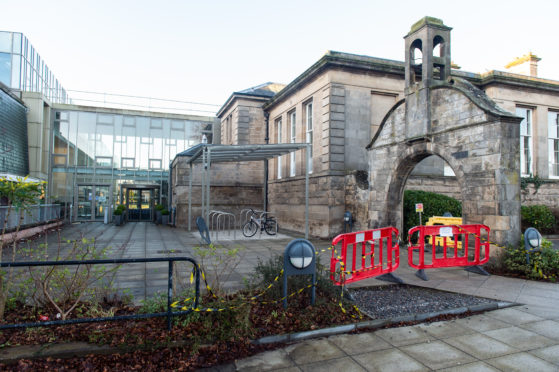 The ferocious winds brought by Storm Brendan did not miss Moray, though the region's unique micro-climate offered some protection.
A number of homes and businesses sustained damage as winds of up to 80mph hit communities on Monday.
Moray College UHI lost part of its roof and was closed to students and staff yesterday due to concerns over the safety of its buildings.
A contractor was on site during the morning to assess the extent of the damage to aluminium sheeting, which was torn loose during the storm.
Moray MSP Richard Lochhead said he had been briefed by the college principal and told it would be repaired soon to allow "staff and students to get back to normal as quickly as possible".
A spokeswoman for Moray College said last night that emergency repairs were carried out and the college would re-open this morning.
Staff and students will receive any updates via social media and email.
Moray Tory MP Douglas Ross said: "With Moray College being closed due to the storm damage it's clear that the area felt the full impact of Storm Brendan.
"With the inclement weather due to continue we need to be braced for more disruption, but hopefully this will be kept to a minimum."
In Forres, the roof of a house was partially blown off after the town was battered by Storm Brendan's winds.
Despite getting "a bit of a scare", home-owner Wilma Petrie said the family was safe and had been offered support by kind-hearted neighbours who had offered shelter in their own homes.
Emergency services were deployed to the house on Monday evening and fire crew revisited the scene yesterday to assess the damage.
Mr Ross said: "I'm pleased to hear that everyone in the house is OK, but it must have been a worrying experience for them all."