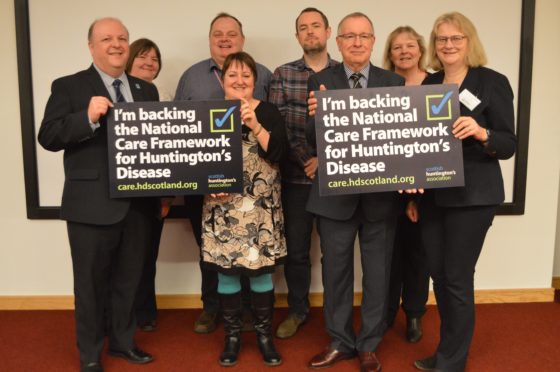 Families and care staff in the north will be able to access dedicated online support for the first time to help people with Huntington's disease.
The Highland Care Framework for Huntington's Disease has been launched in Inverness to provide families living with the genetic disease readily accessible support and advice.
As well as families, social and health care staff throughout the NHS Highland area will have access to an extensive online register of resources.
This digital outlet for information has been carefully developed to ensure that those suffering from the long-term complex neurological condition receive the best possible care they need, when they need it.
The Care Framework for Huntington's Disease is a pioneering initiative from Scottish Huntington's Association that is supported by the Scottish Government.
The innovative online resource is the first of its kind in the world and will serve as a template for support for other serious health conditions.
The Care Framework for Huntington's Disease was launched at an event held at Raigmore Hospital in Inverness and was attended by local resident Sandy Patience, who has the defective gene that causes the condition.
He said: "So often people think of a disease as affecting one person. However, Huntington's disease affects entire families from generation to generation. When people find out that HD is in their family it can have a devastating impact, especially when they have no idea where to turn.
"The HD Care Framework stands to change that. Everything you need to know about the disease is all there in one place, helping and guiding families and health and social care staff."
John Eden, Chief Executive of Scottish Huntington's Association, added:
"Family members and a full range of health and social care staff from across NHS Highland have been instrumental in developing this tool. We owe so much to them all for their guidance and support. This is a hugely significant piece of work that, if widely shared and used, has the potential to make a real difference to people's lives."