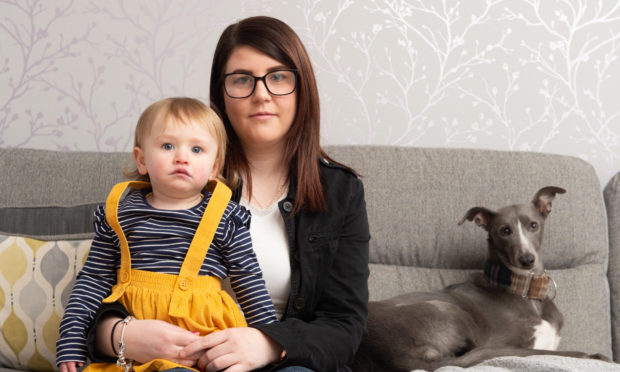 An Elgin mum has described the care she received at Raigmore Hospital as the "worst experience of my life".
Shelly Ward, 26, said the way she was treated following her caesarean section at Inverness would put her off having another child.
Her daughter Aaliyah is now 17 months old – but Miss Ward wants to make sure no other mother goes through what happened to her.
She believes if maternity services hadn't been downgraded at Dr Gray's in Elgin she would never have had to travel to Inverness in the first place.
The first-time mum went into labour on September 1, 2018, and originally went to Dr Gray's but complications meant she had to travel to Raigmore.
Miss Ward said: "I was in the worst pain of my life. My partner Sean came in the ambulance with me and my mum followed.
"When I got to Inverness people were asking me questions but I was in too much pain to answer. My partner didn't know what was going on. My mum would have been able to answer but she wasn't allowed in the room, yet a trainee doctor was."
After three days of labour, the decision was made to give her a C-section.
She said: "I couldn't hold my baby for two hours after she was born because I was shaking so much."
During her recovery in the Inverness maternity unit, she says her nightmare continued.
Miss Ward said: "At the time I didn't know what was going on. Now I want other first-time mums to know that this is not normal or acceptable.
"During the night my cannula came out of my hand. My hair, my bedding and my nightdress were soaked in blood. A midwife came through and changed my bedding but didn't help to clean me.
"I was left covered in blood overnight. There was blood in my hair and down my back. The next morning when I went for a shower it looked like a murder scene.
"I was told by another midwife to tidy the mess around my bed – I could barely move. I broke down in tears and was told I was being 'silly and hormonal'.
"At this point I was ordered to strip and make my bed – not even 24 hours after a C section.
"I asked for milk for my baby and was told to get it myself. I didn't know where the milk was or if was even able to walk to it.
"This was the worst experience of my life, it put me off having another child. I would only ever go back to Raigmore Hospital again if it was a matter of life or death."
A spokeswoman for NHS Highland said: "Whilst we cannot comment on the detail of individual cases, we offer our unreserved apologies for this patient's experience.
"This does not reach the high standards of care we deliver every day at Raigmore. The family can be assured we will carry out a full investigation into what happened during this mother's care to ensure it does not happen again, so we can learn from the outcome. A member of the senior midwifery team will offer to meet with the patient face-to-face to listen and act on concerns raised."
THE BACKGROUND
Maternity services being downgraded in both Moray and Caithness has caused a public outcry in both areas.
Health campaigners in Caithness want an urgent review of maternity services there.
The latest figures showed that only nine of 152 expectant women – 6% – gave birth in Caithness General Hospital in Wick last year.
In December 2016, the health board opted to do away with three consultant posts and put midwives in charge of the service following an inquiry into the death of a new born.
As a result, all first-time mothers and those deemed at risk are now referred to give birth in Raigmore Hospital – a 100-mile journey from Caithness.
And NHS Grampian health bosses were forced to downgrade maternity services at Dr Gray's in Elgin due to staff shortages.
Last summer women due to have an elective C-section at Dr Gray's were told they would have to travel to Aberdeen Maternity Hospital.
The news came just weeks after the health board had its plans to reinstate maternity and children's services – which were downgraded in 2018 due to a lack of staff – approved by the Scottish Government.
Moray mothers now either have to make the three-hour round trip to Aberdeen or the two-hour round trip to Inverness.