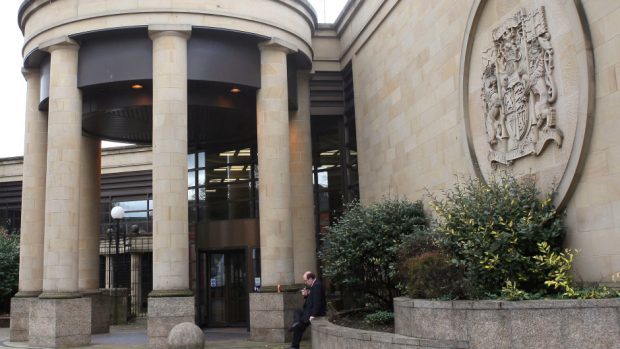 A man accused of murdering an 83-year-old great-grandfather in woods as he walked his dog will not be fit to stand trial.
David Johnstone has been charged with killing "warm-hearted" Frank Kinnis by "placing his arm and around his neck and compressing it", then "punching, kicking and stamping" on the pensioner's head after he fell to the ground on the morning of Monday, October 21, last year.
The 35-year-old is also accused of attempting to murder two local 70-year-olds in Birkenhill Woods on the southern outskirts of Elgin around the same time.
Court papers allege that Johnstone repeatedly punched and kicked church minister Morris Smith on the head and "stamped on his head rendering him unconscious".
And he is accused of attacking his wife, Janette Smith, by "repeatedly punching and kicking her on the head and body".
He is further accused of assaulting two police officers at Birkenhill on the same date,
Johnstone, who is detained at the State Hospital, was not present in the dock at the High Court in Glasgow when the case called today.
His defence QC, Ian Duguid, said: "The accused is not present. He is not well enough to be brought to these proceedings."
No plea has been entered on behalf of Johnstone.
An examination of facts, lasting three days, will take place at the High Court in Edinburgh starting on Monday, July 27.
Judge Lord Arthurson ordered Johnstone to be detained at the State Hospital on a temporary compulsion order.
Mr Kinnis was walking his Alsatian, Sheeba, less than a mile from his home when he was allegedly attacked.
The pensioner, who was better known as Frankie and had recently battled back from serious illness, was described by friends as kind and generous.
A statement released by his family asked loved ones and friends to treasure memories of him as he was, rather than his tragic death.
It read: "We are mourning the loss of our beloved husband, father, grandfather and great-grandfather.
"He was a doting, warm-hearted and unfailingly dependable presence in each of our lives. There will also be fond memories of him among farming and bowls communities in Elgin, where he was well known and liked.
"We will fondly remember him as he was in life and ask everyone who knew him to make certain that it is these memories of him that endure."
Mr Kinnis spent his entire working life on farms and continued to perform duties on Linkwood Farm, where he had worked for more than 20 years, until his final days.
Farm owner Ian Robertson added: "He was an excellent employee – he couldn't do enough for you. He was a dairyman but even after we stopped doing the dairy he was doing odd jobs here and there – he just liked being busy and never stood still."